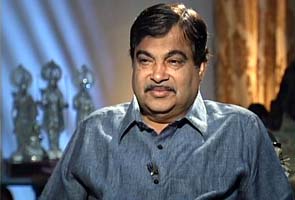 New Delhi:
In a new twist in the irrigation scam in Maharashtra, that is the root of the political crisis in the state, one of the whistleblowers has named BJP chief Nitin Gadkari for trying to suppress it. The whistleblower, Anjali Damania, has been instrumental in blowing the lid off the Rs 72,000 crore scam.
Speaking on NDTV, Ms Damania said that when she met Mr Gadkari in August at his Worli, Mumbai home, he told her to not push too hard to expose the scam. Earlier, without naming Mr Gadkari, Ms Damania had said that 'the opposition party chief' told her "we help Pawar and he helps us, can't do anything in this scam". She claimed to have met the BJP chief three times, once in Delhi in June 2011 and twice in Mumbai, in August 2011 and August 14 this year.
(Watch: She helped expose Maharashtra's irrigation scam)
The BJP's Prakash Javadekar, who was also on NDTV, called it "rubbish". "Anyone can make allegations, it doesn't mean anything," Mr Javadekar said.
Ms Damania claimed that she had an SMS with her, sent to Mr Gadkari, right after the meeting, expressing her disappointment with his stand on the issue. Mr Javadekar dismissed this as well, saying that anyone can send SMSes. Mr Gadkari too has denied meeting her.
The BJP is in opposition in Maharashtra, whose Deputy Chief Minister
Ajit Pawa
r has been accused by political opponents and activists of being involved in the scam, when he was water resources minister.
Ms Damania was one of the two whistleblowers who dug out the scam after her farmland that was with her for more than decade was taken over by an irrigation project, that eventually turned out be a dud.