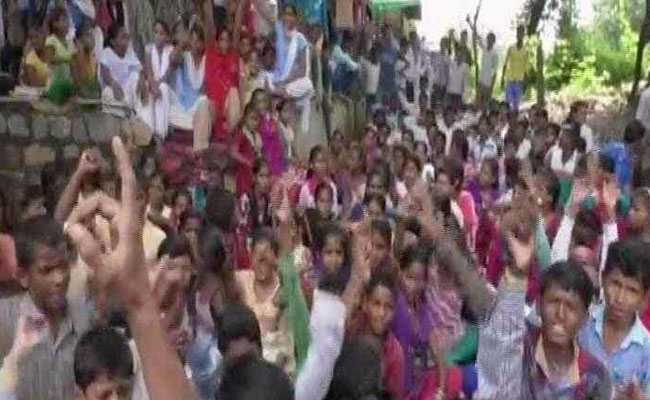 Chattarpur:
Students of a school run by the Madhya Pradesh government in Chattarpur have locked the institute and are staging a sit-in to demand a bigger building and better infrastructure.
The Naharpur Higher Secondary School at Gaurihar block in the district has been operating out of just four rooms over the last 30 years despite upgrading its status.
"The school was initially up to Std 8. It was upgraded as a high school (till Std 10) in 1987 and later as a higher secondary (till Std 12) in 2013" said local sarpanch Jairam Patel yesterday.
"But it has just four rooms and all our requests for constructing a proper building has gone unheeded all these years," he said.
Miffed over the lack of a proper building and other necessary infrastructure, a group of students put a lock on the school's gate and launched an indefinite sit-in on Monday in front of the institute, Mr Patel said.
"The dharna will continue till our demands are met," he asserted.
"We submitted a memorandum through the sub-divisional magistrate to the collector five days back, but nothing happened. This forced students to launch the agitation."
The state government has acknowledged many schools in MP are without proper buildings.
"We admit there is a shortage of school buildings in the state. We have earmarked Rs 85 crore in the budget for developing infrastructure for such schools. I will soon look into the demands of agitating students at Naharpur," Minister of State for School Education Deepak Joshi told PTI.
"The students had been demanding a proper school building since the last 30 years, but nothing has happened," Shivam, a Class 10 student, said.
The school has just four rooms, while two others were in dilapidated condition. The school has a total strength of 450 students.
"In just one room, students of three different classes study," Shivam said.
"There is no proper drinking water facility, no adequate teaching staff and laboratory. Students from nine villages situated in the area are studying in the school," the sarpanch said.
On getting information about the lock-out, the block education officer and other officials rushed to the school and assured the agitating students to look into their demands.
However, the students decided to continue their stir. Assistant director, school education department, JN Chaturvedi, said permission for constructing a new building will be soon sought from the authorities concerned.