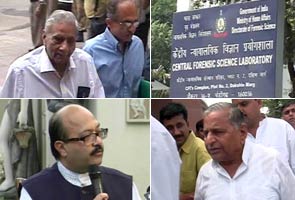 New Delhi:
The curious case of Bhushan CD just got curiouser. The Central Forensic Science Laboratory (CFSL) in Chandigarh has said that the Audio CD with voices of former Law Minister Shanti Bhushan, Amar Singh and former Uttar Pradesh Chief Minister Mulayam Singh is indeed a cut and paste job.
This contradicts a report by the Delhi CFSL lab which barely a fortnight ago had said that the "CD could not have been tampered" and confirms what Hyderabad's Truth Lab had said: "There are discontinuities, breaks in recording, indicating a fabricated conversation... substantial part of the recordings are electronically copied to build up and fabricate."
The Chandigarh CFSL analysis reportedly says that an Apple Macintosh computer was used to patch different bits together, and the software iTunes was used to make the CD.
The Delhi Police maintain that they are yet to receive the report. However, it is being said that the report has been sent. So, is the government worried about two very different results from its top lab in the country and the fallout this can have on the drafting committee?
The CD allegedly has voices of Amar Singh and Shanti Bhushan assuring Mulayam Singh over phone that Prashant could fix a senior judge for Rs 4 crore. The controversy had led to sharp differences over whether the Bhushans should continue to be part of the Lokpal bill drafting committee, or step down.
The former Samajwadi Party leader himself delivered another googly.
"Today, Prashant Bhushan was on the line and called me and told me not to fall prey to an agenda and to join them to fight for the Lokpal," said Amar Singh.
I recorded his conversation which I will present to the cops, he added.
The Lokpal joint drafting committee is expected to meet on May 7 and it remains to be seen just how the latest revelations will affect the working of the committee.