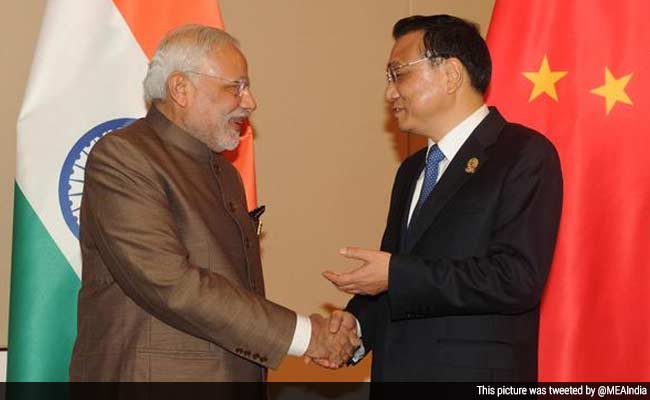 Nay Pyi Taw, Myanmar:
Prime Minister Narendra Modi today met Chinese Premier Li Keqiang on the sidelines of the back-to-back India-ASEAN and East Asia summits in Myanmar's capital of Nay Pyi Taw.
Premier Li told PM Modi that China is looking forward to the Indian leader's visit to Beijing.
India's foreign ministry spokesman also tweeted:
Keen to have you visit China. Look forward to seeing you in Beijing - Premier Li to PM @narendramodi at 1st meeting. pic.twitter.com/QjoiBzMo02

- Syed Akbaruddin (@MEAIndia) November 13, 2014
The Chinese Premier was among the first leaders to greet PM Modi over phone after the latter was sworn in as Prime Minister in May this year. He had pledged then to build a "robust" relationship with the Narendra Modi-led government.
During the meeting, PM Modi recalled the visit of Chinese President Xi Jinping to India in September, saying it would be remembered as a memorable visit.
Responding to PM Modi's comment, Premier Li said President Xi's visit was a "high-success".
PM Modi had several bilateral meetings for the third day today during the course of his ten-day three-nation tour that will also take him to Australia and Fiji.
PM Modi met Russian Premier Dmitry Medvedev and Philippines President Benigno Aquino among other world leaders today.
The External Affairs Ministry spokesperson had told reporters in Delhi earlier this week that there will be a "structured" meeting and delegation-level talks between PM Modi and the Chinese Premier in Myanmar.
PM Modi will also have an opportunity to interact with President Xi during an informal meet of the leaders of the five-nation BRICS bloc on the fringes of the G-20 summit in Brisbane.
PM Modi and President Xi are likely to enhance their rapport struck during their meetings at the BRICS summit in July in Brazil and during the President's visit to India in September.
Officials of both countries are reportedly keen to focus on the positives, such as the USD 20 billion investment pledge from China, and to take concrete steps to move forward agreements such as the setting up of China-dedicated industrial parks in India. National Security Advisor Ajit Doval also attended the meeting.