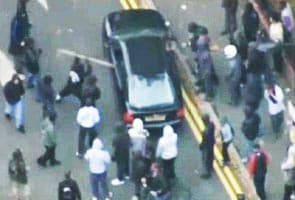 Birmingham:
The third test between England and India starts tomorrow, in Birmingham. But due to the riots there is some uncertainty about whether the test match will go ahead. The Indian team management has issued an advisory to all the players, asking them not to step out and return to their hotel. So far everyone in the Indian team is safe.
Meanwhile some of the players have tweeted their responses.
Suresh Raina: "Good nite, every thing safe here miss you mom can't wait to see u.''
Tim Bresnan: "Just seen the rioters in Birmingham fleeing down the main street followed by a load of police in the full get up. What's going on?"
Kevin Pietersen: "They have just locked our hotel in Birmingham. Riots just started here. Insane!"
Graeme Swann: ''Goodnight England. Good luck to those surrounded by the carnage. Be safe."