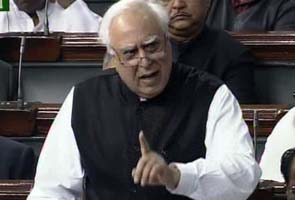 New Delhi: Highlights of BJP leader Sushma Swaraj's speech in Parliament:
Narayanasamy has placed three bills for debate
It appears the government is placing this bill in a fit of rage
Ministers normally introduce bills very calmly and ask for support
But the minister seems ready for battle
This bill violates "Sense of House" we agreed on in August
Federal structure of constitution is being violated
Lokpal meant to handle corruption complaints at Centre, and Lokayukta will do similar jobs at state
States have rights to make their own laws
Centre wants to make the Lokpal model option for states, but the bill you have brought makes it mandatory
Bill is meant to provide enabling framework but government now says we make it mandatory because states like Gujarat have failed to create effective Lokayuktas. You (government) are contradicting yourself. So why don't you first decide what you want? Is it mandatory or optional?
18 states have Lokayuktas. Many of them have better bills than the ones you have brought. Like Uttarakhand. Your bill will over-ride those. Better ones like the bill that Karnataka passed long ago.
Minority quota: In a Lokpal of nine members, five seats have been reserved. Reservation in constitutional bodies is not allowed
Sushma seen sipping water
Proud that three presidents and current PM are from minority sections
But what you are proposing today is not healthy for our country. Reservation on the basis of religion is not correct. Don't try to divide the country
Lalu bhai, they got you to raise reservation and agreed to you. But they carved out a sub-quota of 4.5% for minorities from a 27% existing quota. You have been had, Lalu-ji
Lalu to Sushma: It is you who want to divide the country
Government is acting as if this bill is a nuisance and they just want to get it over with.
Pranab-ji, Advani-ji are all so well-versed in parliamentary processes. I also know a little something about this. How with all of us sitting here are you asking us to accept an unconstitutional bill?
We wanted CBI to be freed from government control. But this bill does the opposite. All power lies with the government
Inquiry against PM comes with too many safeguards. Proceedings against him will be in-camera and cannot be accessed through RTI. Are you increasing transparency or checking it?
In last three months, CBI said no need to investigate Chidambaram (in 2G scam)
CBI for transfers and budget will have to bow before the government, accept its directions
CBI's prosecution and investigating wings need to be separated, with the latter handed over to Lokpal. This way, the government's hold over the CBI ends. And the Lokpal gets its own investigating agency.
Government told us Group C and D employees are too many - 47 lakhs - to be covered by Lokpal
We had agreed that Citizen's Charter would be part of this Lokpal Bill. What happened?
Lokpal does not even have the power to select its own secretary
Government is acting as if it just wants to be able to tell the nationwide agitation that look, we have brought a bill
Either you correct this bill, or I say with folded hands, please take it back and send it again to the Standing Committee. Let there be a detailed discussion there and bring it back in three months.
Highlights of what union minister Kapil Sibal said during the Lokpal Bill debate in Lok Sabha:


If you do not let this bill pass, the nation will never forgive you. I respect Sushma ji, and when she lectures, I listen carefully. But today, she spoke almost as a lawyer. I compliment her for this. I will respond to her point by point
What we are discussing today- this has something to do with "Bhrashtachaar. Bhrashtachaar" (corruption)
So this particular legislation has nothing to do with state public services, it has everything to do with corruption. That is why it is not an attack on federal principles
Kapil to Sushma: Please let me speak
BJP is using technicalities. They want Lokpal to cover us (UPA) at Centre and not have a Lokayukta to hold them accountable in states
If you look at states, there is no big step that has been taken to fight corruption
States will have to create Lokayukta, there is no doubt about this. Maybe Sushma-ji, you have not read the whole bill, na. That is why you are not understanding it.
Sushma-ji is ignoring corruption in Karnataka. BJP blames Centre for corruption, ignores it in their states
Neither the BJP or Sushma- ji have the answers. The reality is they breed corruption in their homes, and blame it on others.
Let me tell you - if you oppose the Lokpal model for states- you are violating the Sense of the House and for this also, the country will not forgive you
Their strategy is to work with Anna, go to states and say the government doesn't want a tough Lokpal Bill, this is their strategy for the elections.
Is the Lokpal a government job?
16 crore minorities cannot find a place or representation on the Lokpal - this is what the BJP says. Minorities must have representation - this is justice.
The country is watching you more carefully than us. Because we have brought the Lokpal Bill. Rest is upto you. If you don't pass it, Sushma-ji, you will find yourself in a lot of trouble. The road to power is always under construction. For you, it was under construction in 2004; then in 2009; it will continue to be under construction in 2014
Should Lokpal alone have all the powers? We have carefully put in lots of checks and balances. We will not let anyone or any provision violate the constitution.
Sibal sips water
Do CAG, Election Commission etc all favour us? Are we able to influence them?
You said we have too many safeguards for an inquiry against the PM. Like in-camera proceedings. Many parties didn't want the PM to be covered by the Lokpal at all. But we respected the views of the opposition, so we agreed to this. At the all-party meeting, you said bring the PM under the Lokpal with conditions. You fire indiscriminately. So then our riders have to be bullet-proof, isn't it? If you look at this side of the house (UPA), you get what you see. If you look at the other side of the house, you never get what you see.
CBI has functional autonomy and it is on this basis that it is prosecuting cases. Bill ensures independence of appointment of the Director of CBI. We want autonomous independent CBI investigations. When you sit in opposition, you attack CBI, when you are in power, you defend it.
Country wants this bill passed asap
You (BJP) are a fabulous auditor. Your motive is to destroy not to construct. You have not given one constructive suggestion. BJP has always said let the bill come to Parliament, then we will discuss it. Do not let the country down, support the Lokpal Bill and have a Lokayukta in your state.
Highlights of what Mulayam Singh Yadav of the Samajwadi Party said during the Lokpal Bill debate in the Lok Sabha:
Sarkar ko gussa kyun aata hai (why does government become angry)
Lok Sabha represents wishes of people
Loktantra (democracy) is bigger than Lokpal
The bill disappoints on many fronts, Lokpal Bill won't end corruption
The charges being flung now at the CBI will also apply to the Lokpal because of what your bill creates
This bill suits you (government), not the people
Lokpal majoboot nahin hai, nahin hai, nahin hai (Lokpal is not strong)
This is completely a sarkari (government) bill