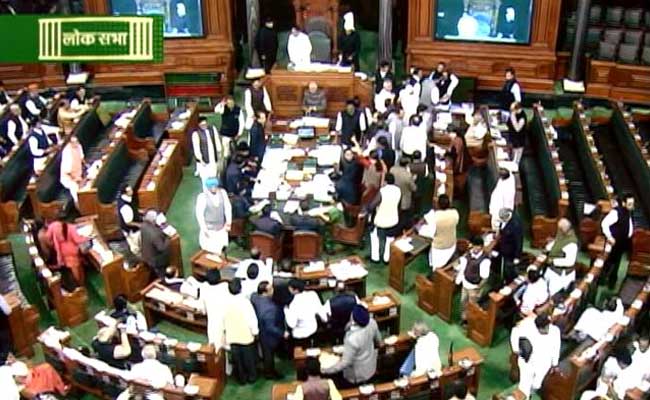 New Delhi:
Lok Sabha on Friday took up for consideration a private member bill to end discrimination against transgenders, which had created history last April when Rajya Sabha passed it.
Moving the 'Rights of Transgender Persons Bill, 2014' for consideration and passing, BJD member Baijayant Panda said "We need to be compassionate towards transgenders and end all kinds of discrimination."
The bill provides for formulation of a implementation of a comprehensive national policy for ensuring overall development of the transgender persons and for their welfare.
The bill had created history when on April 25, the Rajya Sabha passed it, becoming the first private member legislation in 36 years to be cleared by any House of Parliament. If passed by the Lok Sabha, it will become law.
Generally, the private members' bills are withdrawn after government gives its response following a debate.
According to some estimates there were about 25 lakh transgenders in the country, though the number could be much higher as many do not declare their status because of social stigma.
Describing the bill as historical, Mr Panda insisted it had the support of all sections of House and even the judiciary and should be passed as a private member's legislation.
The bill, he added, would help in extending constitutional rights relating to equality, right to life of dignity and freedom of speech to transgenders who are discriminated in all spheres of life.
Even the High Courts and Supreme Court were for ending discrimination to transgenders, he said, stressing that under the Constitution all citizens must have equal rights.
Mr Panda said that a law was needed to ensure that they get equal treatment in educational institutions and jobs and lead the life of a dignity.
Observing that the bill was not exactly about section 377 of the Indian Penal Code which criminalises homosexuality, he said, the rights of transgenders have some connection with sex preferences of individuals.
The issue concerning the decriminalising of homosexuality is presently before the seven-member constitution bench of the Supreme Court, he said.
Lok Sabha had earlier rejected Shashi Thraoor's (Cong) private member bill on decriminalising homosexuality at the introduction stage.
Participating in the discussion, Jagdambika Pal (BJP) said there was no fault of transgenders and they should not be ostracised by the society.
"They should be should be provided equal opportunity in every sphere of life," he said, adding "if they get opportunity, they can provide valuable support to society. They are not liability but they are asset to our society provide we enable them."
The debate remained inconclusive and will be taken up later.