New Delhi:
72 parliamentary constituencies voted across 9 states on Monday marking the end of polling on fourth phase of the national election. The Election Commission said the provisional voting figure is 64 per cent. For the ruling BJP, the round was crucial, with voting beginning in Madhya Pradesh and Rajasthan - heartland states won by the Congress in assembly elections last year.
The campaigning for fifth phase will start today with both PM Modi and Amit Shah addressing rallies. PM will be in Bihar and Uttar Pradesh. BJP chief Amit Shah will be in Rajasthan on Tuesday to address three election rallies. Meanwhile, Rahul Gandhi is to campaign in Madhya Pradesh. Priyanka Gandhi Vadra, responding to the government's notice to Rahul Gandhi on a complaint alleging foreign citizenship, said today, "Everyone knows he was born and bred here".
In the fifth phase of voting, seven states comprising 51 Lok Sabha constituencies will vote on 6 May.
The seven-phase election ends on May 19 and the results will be declared on May 23.
Here are the highlights from election rallies:
Read Here: Lok Sabha Elections 2019: PM Narendra Modi's Speech In Maharashtra Doesn't Violate Model Code, Says Election Commission
Prime Minister Narendra Modi's speech criticising Congress chief Rahul Gandhi's nomination from Wayanad does not violate the model code, the Election Commission said today.
Read Here: Rahul Gandhi Attacks PM Narendra Modi After Shastri Bhawan Fire, Says Burning Files Won't Save You
Congress chief Rahul Gandhi, cornered by the BJP in Supreme Court over his "chowkidar" slogan, seized the moment later in the day to hit back when a fire was reported from Delhi's Shastri Bhawan. The building in the heart of the city houses several government departments, and various files are stored there.
Read Here: Priyanka Gandhi Vadra Says All Know Rahul Gandhi Born, Trashes Centre's Notice To Rahul Gandhi
Priyanka Gandhi Vadra, responding to the government's notice asking her brother Rahul Gandhi to clarify whether he is an Indian citizen, said today, "The entire country knows he was born and brought up here". The notice reflects the ruling BJP's fear of losing, the Congress leader told NDTV.
Read Here: Lok Sabha Elections 2019: Mamata Banerjee Dares PM Narendra Modi After He Said 40 Lawmakers In Touch
Prime Minister Narendra Modi's comment that 40 Trinamool lawmakers will join the BJP, has prompted Bengal chief Minister Mamata Banerjee to issue a dare.
"Rahul Gandhi Is An Indian": Priyanka Gandhi Vadra
On Rahul Gandhi has been asked by the Home Ministry to respond to a complaint that he has foreign citizenship, Priyanka Gandhi Vadra says, "I have never heard such rubbish in my life. Every one knows Rahul Gandhi is an Indian."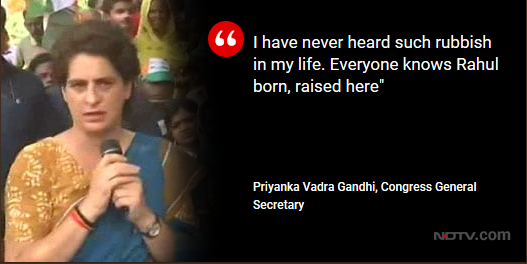 Priyanka Gandhi Hits Back At BJP
Congress has decided to give you money. What has BJP done for you all these 5 years? Have you got khad (manure)?


We will work for farmers.


BJP says every family of a farmer will receive 6000 per year which means 500 rs per month. Is this Kisan Samman Yojana or Kisan Apman Yojana?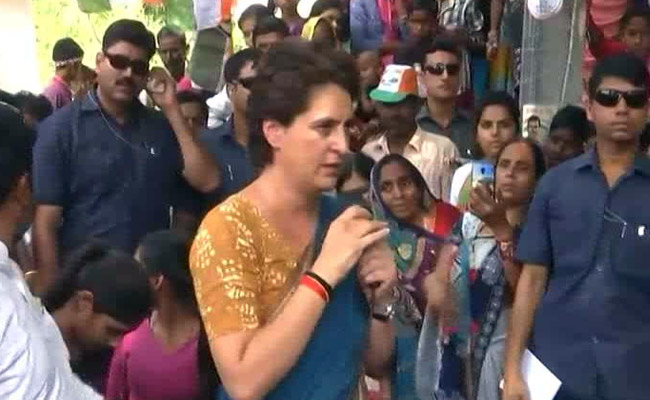 Congress General Secretary Priyanka Gandhi addresses rally in Amethi
Live: Congress General Secretary Priyanka Gandhi addresses rally in Amethi https://t.co/rcQu6BQRYp

- NDTV (@ndtv) April 30, 2019
Rahul Gandhi Attacks PM Modi
What PM did was take your money and give the same to his friends--Anil Ambani. But I say we will give you money.
The Modi government's GST decision led to employment.


There was cash crunch that led to decreased sales. Factories were closed down due to low sales.


We want to assure that under NYAY scheme, 5 crore banks will be credited with Rs 6000 every month.
As soon as money is credited, people will be able to buy essentials. Clothes, daily essentials and such. As soon as there is manufacturing boost, there will be an uptick in sales that will be the benefit of NYAY Yojana.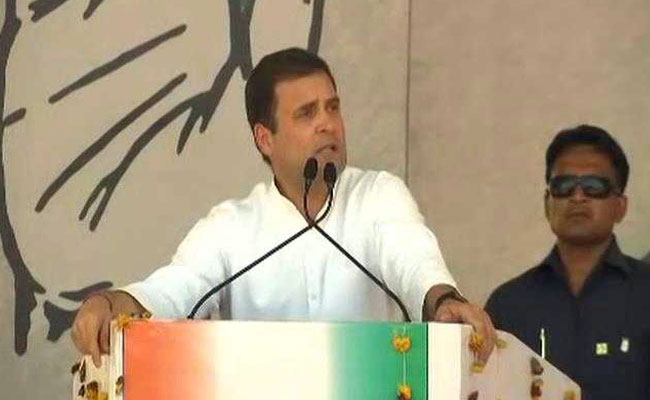 PM highlights BJP's achievements in Bihar. He says:
In 5 years, we have developed a political culture of Sabka Saath Sabka Vikas. 10% reservation to poor youth of general category is a big effort of social harmony as it does not snatch the right of another class.


We have brought the country out of the red light culture and poor have been given the LED bulb's.


We have done the job of providing free treatment of up to Rs 5 lakh to the poor who had to sell their homes for treatment


We have done the work building toilets to in village.


We have worked to provide free gas connections to the poor sister who was forced to live in smoke throughout the age.


We have taken the responsibility of giving the poor a pucca house that never even thought of their home in dreams.


We have also given constitutional status to the OBC commission after all the protests by the opposition


The election results will come on 23 May and once the Modi government comes. Then, we are going to give the benefit of the PM Kisan Samman Fund scheme to all the farmers of Bihar.


The 5-acre limit for the present will be removed
Congress behaved weak during bomb blasts: PM Modi in Bihar
Remember, the day when the big cities in the country, sometimes train, sometimes in the market, sometimes in the bus, at the temple, sometimes at the railway station, there were bomb explosions.


Remember the way the Congress and its partners behaved as weak in that era of bomb blasts


Whether it is within the country or across the border, the factory which will create terror and violence is on the target of this watchman.Wherever India is threatened, we will be able to go home and fix it.


The history of the great adulterers is that they cannot say anything on terrorism; they hear Pakistan's name and their feet are trembling; their government is swinging. That is why air strikes and surgical strikes are allergic to them.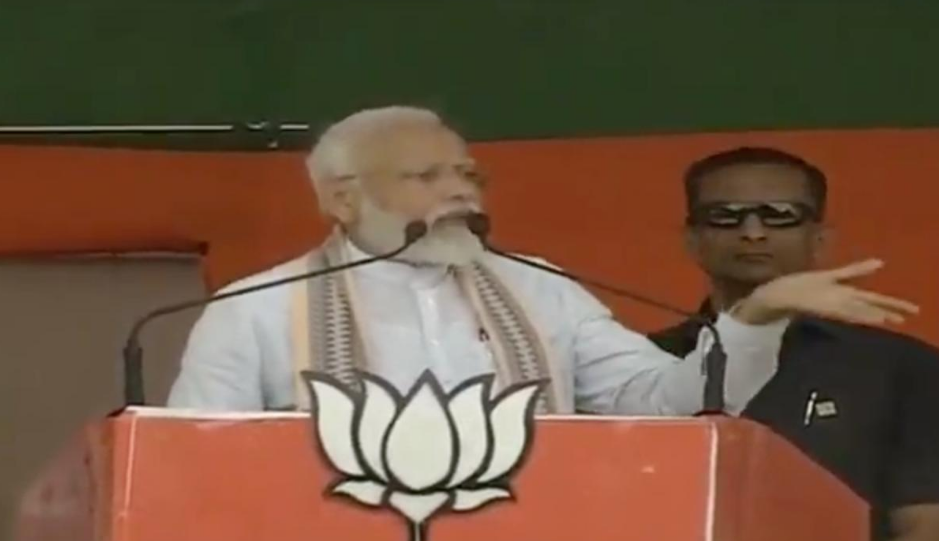 Opposition does not want to have a strong government: PM Modi
Today, again, these people are having their own vision on Bihar. They want to prove self-interest by dividing Bihar into caste, dividing the society.


They want to hide their corruption, their black adventures. Their goal is to have a weak, forced government in Delhi in any way so that they can do it arbitrarily.


They don't want to tolerate a strong government in the centre even for a minute too


Whatever you want to do, the campaign against black money and corruption, which we have taken, will not slow down. The big shopping malls, the farm houses, will also have to be accounted for. They will have to repay the poor money
"Bihar's vote is with NDA": PM Modi in Bihar's Muzaffarpur
Those who had changed the identity of this great land are not fighting to form the government in the election centre. That is why I am cautioning the people of Bihar.


Increasing their strength means kidnapping of daughters, vandalism, murders, corruption in every scheme.


To increase their strength means to be imprisoned in their own home after sunset, to be choked, to be forced to flee.