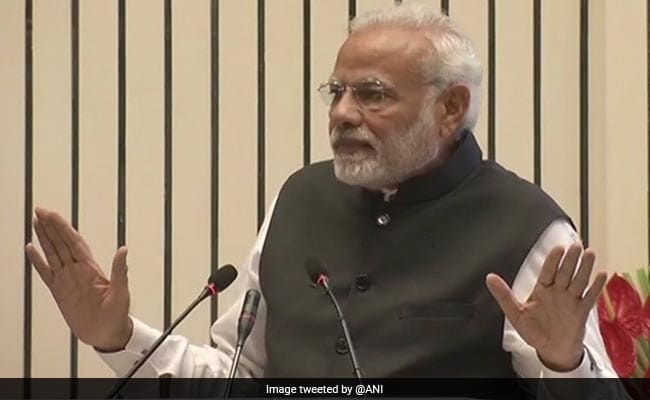 New Delhi:
Prime Minister Narendra Modi today said that loans worth Rs 6 lakh crore have been given to 12 crore beneficiaries under the Mudra scheme as he accused the previous governments of tokenism and not enough for small businesses.
Unlike the loan fairs organised by previous governments, he said that the Pradhan Manrti Mudra Yojana (PMMY) has helped and encouraged people to tread the unconventional path, fulfil their dreams and generate jobs for others by setting up small businesses.
The PMMY was launched by the Prime Minister on April 8, 2015, for providing loans of up to Rs 10 lakh to the non-corporate, non-farm small/micro enterprises.
Last fiscal, the government extended Rs 2.53 lakh crore credit under the Mudra Yojana, while Rs 5.73 lakh crore has been extended in last 3 years.
Interacting with Mudra beneficiaries from across the country through a video conference, the Prime Minister said that under the loan melas, which were organised with great fanfare, loans were provided to selected persons and no one bothered about their repayment.
"Do you know 25-30 years ago there used to be loan melas for political benefit and people who were close to politicians used to gets loans with no intension of returning them. There used to be great fan fare but no one bothered to find the end results," he said.
"The NDA government did not organise any loan
melas
or gave space to intermediaries. It trusted the country's youth and women to get loans directly from the banks and start their own small business," the Prime Minister said.
"We trusted small businesses, we trusted business skills of first time entrepreneurs and loans were given under the Mudra Yojana for setting up their own venture," PM Modi said.
The government developed the new product 'Mudra' with a view to provide opportunity to poor people and small businesses to obtain loans from banks without any collateral to either start small enterprise or expand the existing ones, he said.
Mudra has created opportunities for self-employment and is acting as job-multiplier, PM Modi said, adding that as many as 12 crore received Rs 6 lakh crore in loans under the scheme.
"Out of the 12 crore beneficiaries, 28 per cent or 3.25 crore are first-time entrepreneurs," he said in his interaction with beneficiaries of this scheme.
He also said 74 per cent, or 9 crore, borrowers are women and 55 per cent belong to the SC/ST and OBC category.
Mudra Yojana is not just a self-employment scheme but it acts as job multiplier as it has created jobs as several new ventures got started, PM Modi said.
Recalling the days of Licence Raj, Modi said, earlier loans were provided to rich people on the recommendations of high and mighty, and poor people without connections were left out of the formal credit system.
They were forced to take money from the money lenders who charged usurious rates of interest. But Mudra Yojana has taken out the youth from the clutches of money lenders.
There was a time when the country's Finance Minister would do every bit possible to get loans sanctioned for top corporates. On the other hand small business would never come out of the clutches of money lenders who used to charge interest rate as high 40 per cent, Modi said.
Beneficiaries from Maharashtra, Karnataka, Assam, Himachal Pradesh, Jammu and Kashmir and West Bengal participated in the interaction with the Prime Minister.
Taking a dig at past governments, the Prime Minister said, "people of this country heard poverty alleviation slogans in the past but nothing happened on the ground. As a result, trust of millions was shaken."