Chennai:
Highlights
Meira Kumar said transparency, fight to end caste system 'under threat'
Ms Kumar told Tamil Nadu lawmakers she is fighting an ideological battle
She said she is honoured by the trust the parties have shown in her
The opposition's Presidential candidate Meira Kumar today asked all lawmakers -- MLAs and MPs -- from Tamil Nadu to listen to their "inner voice" when they cast their vote in the presidential election. Ms Kumar told reporters she wanted their support in "this ideological battle". "I am fighting an ideological battle," she said after meeting Members of Parliament and Members of Legislative Assembly of the DMK, Congress, IUML and the Left parties.
She said the collegium members should only listen to "their inner voice and conscience" and act. "This is my request to everyone," Ms Kumar said.
Dravida Munnetra Kazhagam Working President MK Stalin and his party's legislators; MPs TK Rangarajan of CPI (M) and D Raja of CPI; Congress MLAs and leaders participated in the meeting with Ms Kumar.
Besides DMK's 89 MLAs, Congress's eight and Indian Union Muslim League's one MLA, Tamil Nadu's ruling AIADMK (Amma) ally M Thamimun Ansari has pledged support to Ms Kumar. The DMK has four Rajya Sabha MPs; CPI and CPI (M) have one MP each from Tamil Nadu in the Rajya Sabha.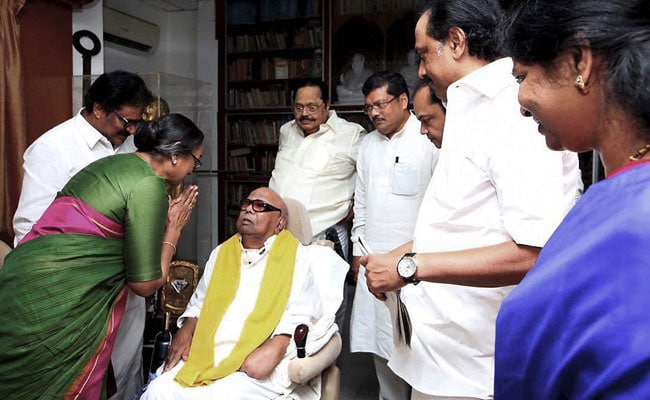 Ms Kumar said principles like transparency and the fight to end the caste system are "
under threat
". "I am sorry to say that all the 17 opposition parties [who have supported her] feel that these principles are now in danger, under serious threat," she said.
Ms Kumar said she was
honoured by the trust
the 17 parties led by the Congress have shown in her. "This opposition unity is inspired by the value system which we all hold so dear," she said, adding she has dedicated her life for the cause of the poor and the "suppressed" sections of society.
"This is my agenda. Wherever I go and whatever position I hold, this will always be my agenda," she said. She said Tamil Nadu is a state that has fought for ideals such as social justice, and credited DMK chief M Karunanidhi for upholding such "great values". "That is the binding factor that we have between the DMK and the Congress," Ms Kumar said.
Ms Kumar said the Congress was inspired by Mahatma Gandhi's thoughts to ensure the dignity of Dalits, tribals and the poor. "My battle is to ensure their right and dignity... I am also fighting for all of you because we are pained to see that lately the voice which used to come out so strongly in the press is not coming out," she said.
Ms Kumar later visited M Karunanidhi at his Gopalapuram residence in Chennai. She is scheduled to visit Puducherry tomorrow.
Follow detailed coverage on
Presidential Election 2017 here
.