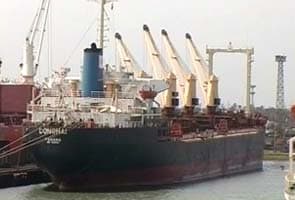 Haldia:
A private firm pulled out of the Haldia port's cargo handling operations yesterday, saying that the West Bengal government was not providing a secure environment to work in. The firm quit after worker unrest and the 'abduction' of three officials and the family of one, allegedly by political workers. But NDTV now finds that there could be the involvement of the ruling Trinamool Congress and two of its MPs in the firm's exit.
Chief Minister Mamata Banerjee dismissed the law and order situation as "nothing" and accused the media and opposition CPM of cooking up the situation, even as parallels were being drawn with the Tata's pullout from Singur, where they were to set up the Nano car plant.
There were also insinuations that the firm, Haldia Bulk Terminals (HBT), engineered the situation to get out of the contract without paying a penalty to Kolkata Port Trust.
It now emerges that one of the reasons why HBT possibly faced worker unrest as well as security threats, which it quoted as the reason for its pull-out, is that the only other cargo handling operation at Haldia is owned by the family of a ruling Trinamool Congress Member of Parliament, Srinjoy Bose.
Sources say that the Rajya Sabha MP's firm, Ripley and Company, was hit by the entry of HBT in 2010 and a campaign was launched to cripple the new operation. It is also widely believed that another TMC MP, Shubhendu Adhikari, was helping Mr Bose and Ripley in this. Mr Adhikari is the MP from Tamluk, in which Haldia falls.
NDTV has accessed a set of documents that point towards a link between HBT's exit and the two MPs' likely involvement.
One of them is an email from an officer of Haldia Dock Complex to the chairman of Kolkata Port Trust on September 20. This mentions the fact that Mr Adhikari called up dock officials and demanded to know why a ship had been berthed at an HBT berth and not other berths. The officer's email says that the MP threatened that even if cargo is unloaded from the ship, he will not allow a single truck of cargo to move out of the port.
(Read letter)
The second is a letter from the port chairman to the Home Secretary of West Bengal on September 19 in which says workers of private handling agents at Haldia belonging to the Trinamool union had on 18th gheraoed port offices to protest ships being sent to HBT berths.
(Read letter)
And the third is another letter, this time from a Haldia Dock Complex manager to the Haldia Police station about the same incident mentioned in the September 19 letter. In it, he clearly states workers from Ripley and Company had gheraoed the dock offices.
(Read letter)
Mr Bose didn't respond to NDTV's queries, since he is in Australia. Neither did Mr Adhikari or the Trinamool Congress.
Backing the documents, Ramakanta Burman, general secretary of the port workers association, now suspended from the Haldia Dock Complex, claimed that HBT was not even licenced to do most of the work it was doing. "Yet it is earning Rs 200 crore a year, without sharing anything with KoPT," Mr Burman told NDTV in Kolkata. He also said that Ripley and the two MPs were behind HBT's exit.
KoPT had taken HBT to court after it stopped work on two berths, demanding security as well as more cargo to handle, since it claimed it was losing money because of limited availability of work. On 12th September, KoPT and HBT agreed that more ships should go to HBT but KoPT's efforts in that direction were opposed by Trinamool MP Mr Adhikari in at least one instance that has come to light.