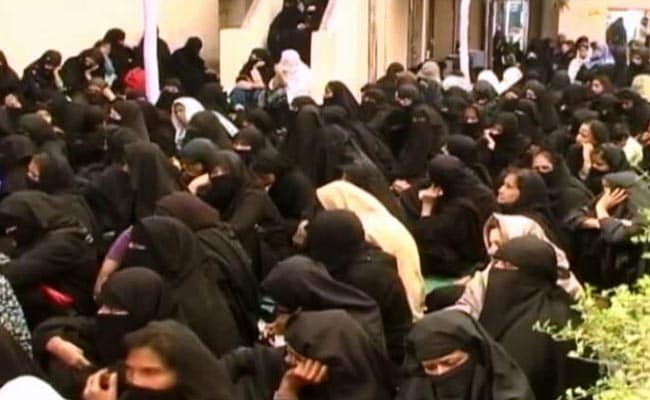 New Delhi:
Triple talaq
is undesirable and Muslims know it, but they should be allowed to get rid of it on their own, senior advocate Kapil Sibal said today. Work is on to discourage the practice and outsiders "should not interfere", he told the Supreme Court, which is examining the legality of the practice that allows men to divorce his wife by saying "Talaq" thrice.
Triple talaq is something that should not remain permanent, Mr Sibal said. "We don't want someone to tell us that it is bad. It is for the community to get rid of... Nobody should interfere in the matter," added the former union law minister, who is representing the Muslim Law Board.
The five-judge Constitution bench asked why the community is not taking any steps to eradicate the practice. "We are trying to educate people and working on it advising them not to resort to this," replied Mr Sibal, who said yesterday that it was not triple talaq that was at fault, but patriarchy.
Earlier today, the court had delved into why the procedure to talaq changed from the one laid down in the Quran. Lately, some have even abridged it further to fit into Whatsapp and Facebook messages.
Mr Sibal said it was a
matter of "faith and belief"
which takes it out of the jurisdiction of the Constitution and the law. "The messenger of Allah and his companions talk about triple talaq," he said, "The Supreme Court can't interfere".
To drive home his point, he said the matter was similar to the Hindus' belief in Ayodhya being the place where Lord Ram was born. "If I have faith that Lord Ram was born at Ayodhya, then it's a matter of faith and there is no question of constitutional morality," Mr Sibal added.
The Centre has taken the stand that issues like marriage and divorce "have nothing to do with religion" and triple talaq violated gender equality and human right. It has told the court that if the judges gave the opinion that triple talaq was "invalid and unconstitutional", it would
bring a fresh law
on marriage and divorce among Muslims.