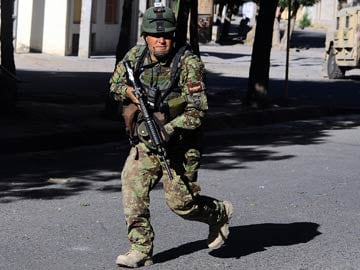 Srinagar:
Pakistan-based militant group Lashkar-e-Taiba (LeT) denied on Monday that it was behind an attack last week by gunmen on an Indian diplomatic mission in Afghanistan, in a call to AFP.
Afghan President Hamid Karzai said Monday that he had been informed by a Western intelligence agency that LeT was responsible for the assault on the Indian consulate in Herat which left two policemen wounded.
"Hamid Karzai's claim is not based on truth. We condemn the attack," a man identifying himself as LeT spokesman Abdullah Ghaznavi said in a call to AFP's office in Kashmir.
"Our operations are limited to Jammu and Kashmir alone, and these will continue until the dawn of freedom for the territory," he said from an undisclosed location.
The caller spoke in Urdu and rang from an unrecognised number. LeT have called AFP to issue denials of their involvement in attacks in the past.
LeT has been active in Kashmir since the early 1990s and the group has carried out some of the most spectacular attacks against Indian forces in the troubled region which is also claimed by Pakistan.
About a dozen other rebel groups have been fighting since 1989 for independence or a merger of the Himalayan territory with Pakistan.
India and Western intelligence agencies believe LeT perpetrated the 2008 attacks on commercial hub Mumbai by Pakistani gunmen which left 166 people dead. LeT has denied responsibility.
Get Breaking news, live coverage, and Latest News from India and around the world on NDTV.com. Catch all the Live TV action on NDTV 24x7 and NDTV India. Like us on Facebook or follow us on Twitter and Instagram for latest news and live news updates.