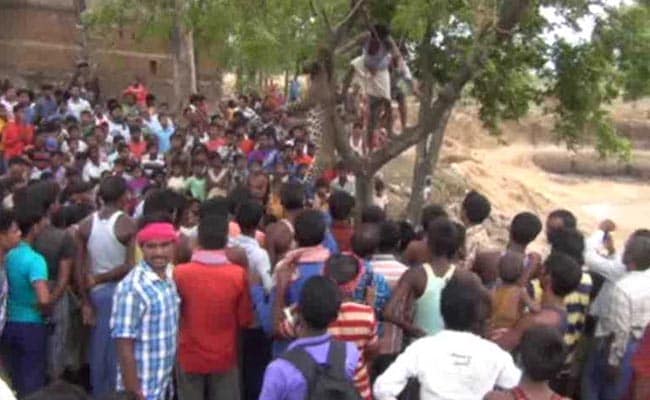 Purulia, West Bengal:
Angry villagers cornered a leopard and beat it to death in Tetuara village of Purulia district in West Bengal this afternoon. Villagers strung up the dead animal from a tree after chopping off its paws and tail, as many of them had been injured by the animal.
People started running helter-skelter in panic after the leopard strayed into the village around noon. Some gave chase to the animal and locked it in when it entered an empty toilet. A police team and forest department workers arrived in a short while.
The moment they opened the door, the animal attacked Assistant Sub Inspector Srimanto Tantubai. Two other villagers Dharm Das Kumar and Prem Chand Kumar were also seriously injured and 10 others received minor injuries.
Villagers then cornered the leopard and scores of them first stoned it and then beat it to death with bamboo rods. They later chopped off its paws and its tail and hung it from a neem tree in the centre of the village. Thousands of people gathered to see the sight and initially refused to let forest workers remove the animal's body.
Finally, a forest department worker was allowed to climb the tree and cut the animal down. The police took away the leopard's body promising that the forest department would pay for the treatment of those injured.
Villager Gayaram Kumar said there had never been a leopard attack in the village before . "It probably strayed into the village from the Dalma forest in Jharkhand which is about 25 km away," he added.
Samir Ghosh, the Purulia range officer, said, "The mob was 2000-3000 strong and the police couldn't control it, especially after the leopard injured the villagers. But we will file an FIR about the incident. We tried our best to save the animal. The police also tried. But we were just about 15 people on the spot and couldn't help the situation."
Animal rights workers are shocked at the incident. Said Joydeep Kundu, an activist, "We need to raise awareness among the people about animals and how to handle them when they stray into human habitats. The leopard should have been tranquilised and taken out of the village. But from what the forest department was saying that was simply not possible."