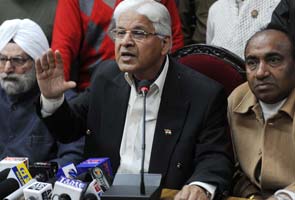 New Delhi:
Law Minister Ashwani Kumar, in trouble over having vetted a Central Bureau of Investigation (CBI) report on its coal investigation in March, has been asked by his party the Congress, to make a statement in Parliament. It is not known yet when he will do so. The Budget session of Parliament ends next week.
The Law Minister has tried to deflect blame, telling his party's spokespersons yesterday that the contentious meeting at which he suggested changes to the CBI's report was called not by him, but by Attorney General GE Vahanvati.
However, a two-page note, released by sources close to Mr Kumar categorically states that his ministry had called that meeting, held at his office, a fact corroborated by other sources.
The Supreme Court has severely reprimanded the CBI for allowing Mr Kumar and other government officials to access a draft of the report, just days before it was submitted to the court in sealed cover.
The meeting was also attended by CBI Director Ranjit Sinha and Harin Raval, who resigned as Additional Solicitor General on Tuesday after accusing the Attorney General of lying to the Supreme Court.
So far, the Prime Minister has been backing Mr Kumar, though a section of the Congress reportedly believes it is "untenable" for the minister to remain in office.
In their note released to the press today, sources close to the Law Minister describe the changes he asked for to the CBI's report as "suggestions of a minor nature." The note also says that as the government's legal advisor, the Law Ministry is required to liaise with the CBI.
The Supreme Court yesterday ordered the CBI to explain in an affidavit on Monday what changes were requested to the CBI's draft report, and by whom.