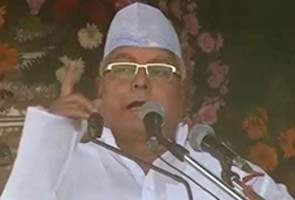 Patna:
Lalu Prasad is addressing a 'parivartan' rally in Patna today. His party, the Rashtriya Janata Dal (RJD), has booked 13 trains from different destinations in Bihar and Jharkhand to carry people to Patna for today's rally. The Railways has been paid Rs. 1.11 crore for this.
This is the first such rally that Lalu Prasad has organised since 2007.
Speaking to NDTV before the rally, he said the current Chief Minister Nitish Kumar will soon be history. He refused to talk about the UPA government and said today was about Bihar.
Highlights of his speech.
People have come on their own. We didn't have the money.
People are asking why parivartan rally. Nitish Kumar is a parrot, his downfall has started.
No body can save this government. Everyone 's dissatisfied with it.
Kaale hain to kya hua dilwaale hain aur ab tumko bhagane waale hain.

We will come back and form the government.

Condition of contractual teachers is deplorable. The moment our government is formed we will regularize all these teachers.