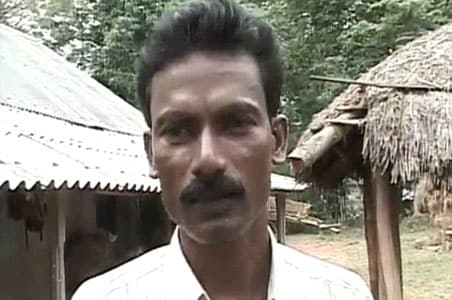 Kolkata:
Chatradhar Mahato, the leader of a Maoist front organization in West Bengal's troubled Lalgarh area, has been arrested. There are several charges against him, including murder.
Chatradhar headed the People's Committee against Police Atrocities (PCPA), set up last November, to spearhead the boycott of the police.
The 48-year-old college dropout ran a family business in saal leaves before shooting into prominence as PCPA chief in Lalgarh that forced the government to finally send in the troops.
Some intelligence reports suggest Chatradhar's has a younger brother named Shashadhar who oversaw the attack on CPM homes and offices at Dharampur on June 15 and then declared a fatwa on Buddhadeb Bhattacharya. This man claimed his name was Bikash.
"On November 2, we planned to kill Buddhadeb Babu," Bikash had said earlier.
Others say Chatradhar's brother is Kiran who joined a Maoist group in 1995 and became a key Maoist leader in charge of West Midnapore, Bankura and Purulia. Chatradhar has never confirmed nor denied his brother's Maoist links.
"No, I don't deny the possibility. He may be a Maoist, a Marxist or a Leninist, that's his personal decision. He is independent and one can't stop him," Chatradhar was quoted as saying earlier.
Chatradhar was a wanted by the police since June 18. He was arrested near his home at Amlia village where police went as journalists seeking an interview. Now what impact his arrest will have in Lalgarh will be closely watched in the coming days.