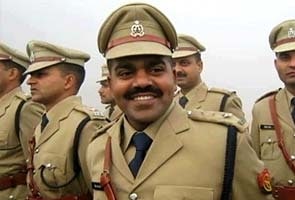 Lucknow:
The Central Bureau of Investigation (CBI), probing the killing of Kunda Deputy Superintendent of Police Zia-ul-Haque, today arrested the son of Balipur's village head Nanhe Yadav, who was also murdered. The accused, Babloo, has reportedly confessed to the CBI that he killed Mr Haque.
CBI sources said the agency has also recovered Mr Haque's mobile phone from Babloo, aged 19.
The agency had earlier arrested two brothers, Ajay Pal and Vijay Pal, both sons of Kamta Pal who is also a suspect. The shooters, borne on the motorcycle, had shot dead the village head on March 2 when he was standing near a tea stall at his village, CBI sources said.
Mr Haque, who had gone to probe the incident, was allegedly shot dead by a mob which had gathered after the killing of Mr Yadav and his brother Suresh, they said.
The case was handed over to CBI on a request of slain DSP's wife Parveen Azad who accused Raghuraj Pratap Singh alias
Raja Bhaiya
of having a role in the murder of her husband. Raja Bhaiya resigned from the Akhilesh Yadav government after the complaint.
Mr Haque's wife had also filed an FIR in this regard naming Raja Bhaiya and his close aides in the murder. CBI sources said that the agency is now probing if Raja Bhaiya was involved in the killings.
After getting the case, the agency constituted a 10-member team to investigate the case.
The team had recently made some important recoveries, including the service revolver of Mr Haque.