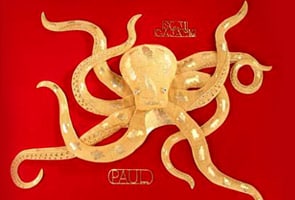 Kolkata:
A Kolkata based group has crafted a signature piece of Paul the psychic octopus.
According to the group, the piece is crafted in 22k gold and weighs 3.3 kilos.
About 30 craftsmen from Bengal have worked to put the piece together and it is priced at Rs 80 lakh.
The creators also displayed a solid gold replica of the Eiffel tower at the exhibition.
Paul, an octopus living in a tank at a marine life centre in Germany, shot to international fame for being able to correctly predict results of football matches during the FIFA World Cup this year.
However, its owners have said that Paul has retired and won't be making any more predictions in the future.