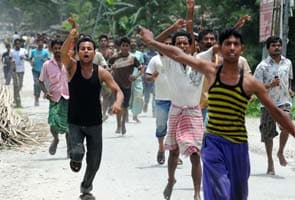 Kokrajhar:
A serious humanitarian crisis is playing out in the riot-affected districts of lower Assam, with as many as four lakh people forced into relief camps across the districts of Kokrajhar, Chirang, Dhubri and a few other places. The exodus of people from the interior villages to these relief camps has still not ended, and those in these camps face an uncertain future.
One such family fleeing the violence is of Shabnam Khatoon. Shabnam and her husband fled her village alongwith their three sons, two trunks with clothes, cash and a few important documents, in a bullock cart on Tuesday. Shabnam told us her village is 30 kilometres away from the main road. "People came in police uniform and started firing at us indiscriminately. Everyone ran for their lives. We hid in our homes. After the firing ended, we just picked up whatever we had and left," she said.
At Bijni in lower Assam's Chirang district, I encounter a truck overloaded with men, women, children, their luggage, and bicycles. Another boy tells me, "When we were being attacked, we fled to the nearest location with paramilitary forces. But there we were told the forces were leaving for a different location. We asked them to take us along. But they refused." Finally, this group of 100 people just got hold of a mini truck and fled.
Just the next day, Assam Chief Minister Tarun Gogoi arrives in Kokrajhar. This is a full seven days after violence erupted in a big manner in lower Assam. After chairing a 'high-level' meeting at the local circuit house, Mr Gogoi addresses the media. The Assam Chief Minister is very angry, especially with the national media. Where is Assam burning, he asks us. "Just three districts are affected. Everything will be normal in two to three days. But the national media is just going on about Assam burning," says Mr Gogoi.
That evening, I ask a lady at the Commerce College relief camp in Kokrajhar if she feels things will be normal in the next week. She just looks at me with amazement. And then she says, "I don't think things will be normal even the next year. I can't even think of returning to my home. I am so scared. I will not go even if they give me security." Another woman picks up a fight. "Where were you when they were killing us? Where were you? Why have you come now? What do you want from us?" Get out of here, she says. I leave.
To get a perspective of what a riot and its aftermath means in this area, the next day I visit a relief camp that's been in place for 14 years now. Yes, 14 years. This is a camp inhabited by Bodos, who came here in 1998 following clashes between tribals and Bodos. 100 such people, including young children, live in 10 odd tin shacks by a river, where the only way to get to the village is over a ramshackle and rickety bamboo bridge. "Why haven't you gone back to your home? Surely you can't be scared after so long?" I ask the village headman. Of course I am, he says. "Do you think these people displaced will go back home even after one month? No chance," says the village headman.
And finally, I visit the Duramari relief camp, 30 kilometres away from Kokrajhar. Or whatever is left of it. Two days ago, miscreants let loose at this relief camp in the night, shot a woman and vandalised the entire place. All the 400 odd people who took shelter here have now fled to other places. All these people belong to one particular community. Just 100 metres away, people of another community carry on with life as if nothing has happened. When I ask them where the people in the camp fled to, I just get blank stares.
All this, in a state whose Chief Minister says things are almost normal and there is no riot.