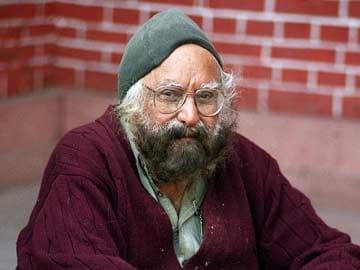 Khushwant Singh, the grand old man of Indian literature, has died at 99.
The renowned author and journalist died peacefully at his Sujan Singh Park home that he lived in for most of his life. His son Rahul Singh said he died some time after he had solved a crossword puzzle.
One of India's best known raconteurs, Mr Singh enthralled millions of readers with classics like "Train to Pakistan", "I Shall Not Hear the Nightingale" and "Delhi - A Novel".
Author Vikram Seth described him as "a fearless writer; a man of great discipline yet full of zest for life; a great Indian who embodied our national values of affection, tolerance and understanding; and a true friend."
Mr Singh was born on February 2, 1915, in Hadali, now in Pakistan's Punjab.
He was the founder-editor of Yojana and went on to head The Illustrated Weekly of India, the National Herald and the Hindustan Times.
He poured his trenchant wit into his popular column, "With Malice towards One and All," which was syndicated in several publications. Till a few years ago, he woke up at 4 am to write his column in longhand.
His autobiography, "Truth, Love and a Little Malice", was published by Penguin Books in 2002.
Close friends recall his outrageous humour and proclivity for single malt and Mirza Ghalib.
Unstoppable even at 95, he wrote the novel "The Sunset Club" about a group of pensioners.
He was awarded the Padma Bhushan in 1974 but returned it in 1984, in protest against "Operation Bluestar", or the storming of the Golden Temple in Amritsar by the Indian Army under then prime minister Indira Gandhi. He had controversially defended Mrs Gandhi's Emergency of 1975-77, when opposition leaders were jailed or punished, saying protest had to be suppressed if it turned violent.
"He liked to call a spade a spade. He hated hypocrisy, fundamentalism, and was a gentle person," son Rahul Singh told NDTV.