Highlights
'Modi is a much better brand name,' said the BJP leader
Haryana Chief Minister dismissed comment as Mr Vij's personal opinion
Modi ji is youth icon, rising popularity of Khadi is example: Government
New Delhi:
As the controversy over Prime Minister Narendra Modi's photos replacing Mahatma Gandhi on the 2017 calendars of the government's khadi enterprise rages,
BJP leader and Haryana minister Anil Vij
today kicked up another storm by claiming that Mahatma Gandhi's image is responsible for devaluation of notes. "Ever since Mahatma Gandhi's name has been on the rupee note, it has devalued... Slowly Mahatma Gandhi will disappear from the notes," the Haryana minister claimed.
He also said that it is good that Mahatma Gandhi's image has been removed from the calendar as PM Modi is a better brand than the father of the nation. "Ever since Mahatma Gandhi's name has been associated with Khadi, Khadi has not been able to make any progress. The sale of Khadi products went down... Removing Gandhi and placing Modi's photo (on the khadi calendar) is a good step. Modi is a much better brand name. Since Modi's photo (on the khadi calendar) the sale of khadi products has gone up by 14 per cent," Mr Vij said.
However, after backlash from the opposition, he withdrew his comments, reported news agency ANI.
Haryana Chief Minister Manohar Lal Khattar was quick to dismiss the comment as Mr Vij's personal opinion. "It is his personal opinion and has nothing to do with the party," he said.
Congress spokesperson Randeep Singh Surjewala slammed the BJP for Mr Vij's remarks and said, "Modi government is doing exactly what the British did. Subjugate people, subjugate institutions and use the might of the power of the state to stifle every dissenting voice. But Modi ji, Anil Vij ji and the BJP must remember that Mahatma Gandhi will always live in the soul of India."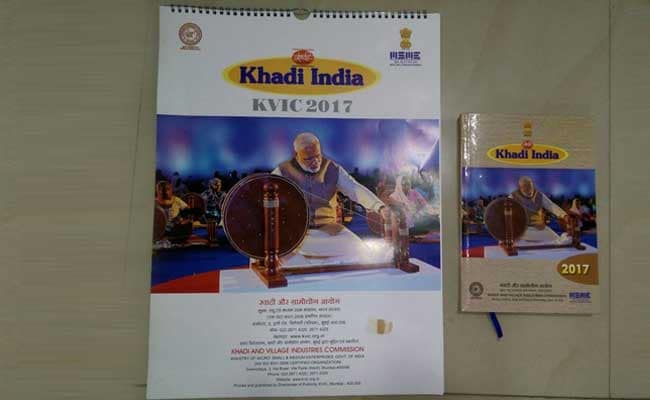 Top government sources have alleged a "baseless and unnecessary controversy" over the face of PM Modi on calendars and diaries of the state-run Khadi Village Industries Commission (KVIC).
The image of Gandhi in a loincloth, sitting cross-legged at a charkha or spinning wheel, is one of India's most iconic and has long been used to promote khadi.
Defending PM Modi's image on Khadi calendars, government sources said: "Modi ji is a youth icon and the increasing popularity of Khadi products among youths is an example of this."
Over the years, the commission's calendars and diaries have traditionally featured Mahatma Gandhi, who started the Khadi movement in the 1920s to promote Indian hand-spun cloth compared to the costly version sold by British rulers.