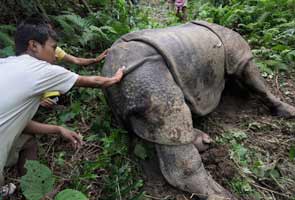 Guwahati:
Vets in northeast India failed to save the rare rhino whose horn was hacked off by poachers who are stepping up attacks on animals fleeing rising floods in Assam state.
The gravely injured rhino was found in the deluged Kaziranga National Park on Wednesday, bleeding from gunshot injuries and a huge wound on its snout after poachers cut off its horn, nose and part of its ear.
Animal rights groups and local residents near the state-protected park staged angry demonstrations on Thursday denouncing the government for failing to combat poaching after a third rhino was attacked in two days.
The injured rhino, aged between 20-25, was being treated by vets amid fears that its wounds will prove fatal.
"It's alive now and treatment is going on, but the possibility of its survival is less," top park wildlife official Ramen Das, the assistant conservator of forests, told AFP.
Veterinarians operated to remove bullets from its abdomen and were treating its other wounds, he added.
Das blamed the attacks on the flooding of the 430-square-kilometre (166 square-mile) park in eastern Assam, which is home to the largest concentration of the world's remaining one-horned rhinos.
"We have sufficient guards, weapons and ammunition but during floods animals stray to seek shelter on higher grounds and they become targets," the conservationist said by telephone from the park.
"We have killed poachers in the past and we have the powers to shoot them on sight but the movement of animals is just too much," he said, referring to the wide swathes of land outside the internationally-famous Kaziranga.
Floods in July this year killed around 600 animals in Kaziranga, including 14 one-horned rhinos. A majority were mowed down on a nearby highway by speeding vehicles as they left the park for higher grounds.
Das also blamed the attacks on the "involvement" of local inhabitants with poachers, while others pointed the finger at forest officials colluding with the criminals.
"We are worried and forced to believe that there is some nexus between poacher gangs and forest officials," the leader of the influential All Assam Students Union Tapan Gogoi told AFP.
Raging floodwaters have submerged the 430-square-kilometre (166 square-mile) park in eastern Assam, which is home to the largest concentration of the world's remaining one-horned rhinos.
As well as the injured rhino, another was found shot dead on Wednesday and a second carcass with the horn removed was discovered on Thursday.
A 2012 census in the park put the number of the creatures at 2,290, of a global population of 3,300.
The species declined to near extinction in the early 1990s and is currently listed as "vulnerable" by the International Union for Conservation of Nature.
Kaziranga has fought a sustained battle against rhino poachers who kill the animals for their horns, which fetch huge prices in some Asian countries where they are deemed to have aphrodisiac qualities.
Floods have swamped 19 of Assam's 27 districts, displacing two million people over the last two weeks, according to official figures.
India is home to half of the world's wild tiger population but has been struggling to halt the big cat's decline in the face of poachers.
Its own population has plummeted from an estimated 40,000 animals in 1947 to 1,706 in 2011.
New Delhi, faced with growing threats to India's dwindling wildlife population including leopards and bears, set up a Wildlife Crime Control Bureau in 2007 to crack down on illegal trafficking and poaching.