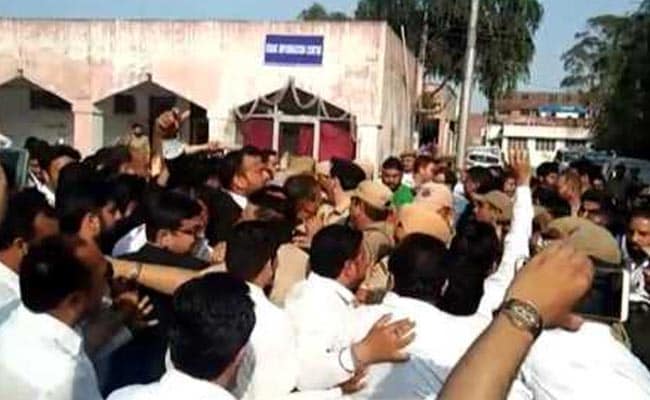 Highlights
Jammu lawyers accused of trying to block chargesheet in Kathua rape
Bar council exonerated lawyers who blame cops of biased probe
Report by a judge however counters their claims
Srinagar:
An affidavit filed by the registrar general of the Jammu and Kashmir High Court in the Supreme Court has indicted lawyers of the Kathua bar association for obstructing the crime branch from filing the chargesheet for the rape and murder of an eight-year-old girl from a nomadic Muslim tribe.
The affidavit that cites a report from the Principal District and Sessions Judge of Kathua counters the findings of an internal inquiry by the Bar Council of India that has given a
clean chit to the lawyers
, saying they did not prevent the chargesheet from being filed on April 9.
"As soon as Crime Branch team arrived on the premises of court, a group of lawyers resorted to
massive and intense protest
demonstrations," said a report submitted by Sanjeev Gupta, Principal District & Sessions Judge that NDTV has accessed.
In his affidavit, Sanjay Dhar, the Registrar General of Jammu and Kashmir High Court says that due to obstruction caused by lawyers of Kathua, the chargesheet had to be filed at the residence of the Chief Judicial Magistrate.
"The obstruction was caused by advocates of Bar Association Kathua at the time of presentation of Challan during court hours," reads the affidavit. "The accused had to be produced before the chief judicial magistrate at his residence after 7.45 pm".
Lawyers in Jammu and Kathua have been protesting against Crime Branch investigations and demanding that the case be handed over to CBI. The Crime Branch investigations were being monitored by the High Court.
Eight people, including four policemen have been arrested in the case. The
Crime Branch investigations
have revealed that the girl child was raped and murdered to create fear and drive the nomadic Muslim tribe out of Kathua.
The affidavit filed by Mr Dhar says the identity of lawyers who obstructed filing of the chargesheet could not ascertained even as police have already lodged a case in this regard. The High Court has also requested the District & Sessions Judge of Kathua to give details of lawyers who took part in the massive demonstrations on the court premises.
In its statement on April 9, the Kathua Bar Association had claimed that it had forced the Crime Branch to go back without filing the chargesheet in court.
The report of the sessions judge says even after the court hours were over on April 9, the lawyers continued their protests outside the residence of the chief judicial magistrate.