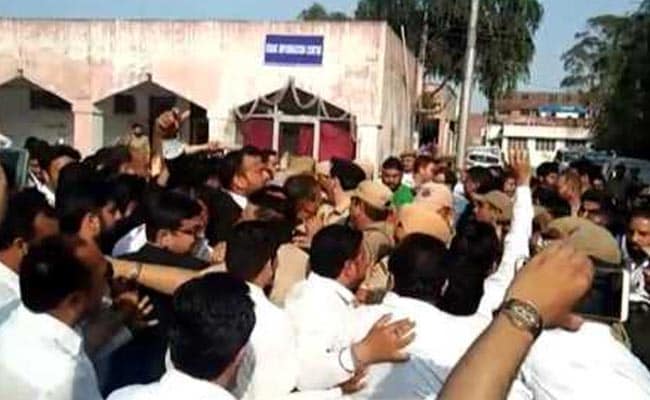 Srinagar:
There was high drama outside the court of the Chief Judicial Magistrate in Jammu and Kashmir's Kathua after lawyers tried to stop Crime Branch officials from filing a chargesheet into the rape and murder of an eight-year-old nomad girl.
Despite massive police presence, the bar association of Kathua district protested on the court premises and stopped Crime Branch officials from entering the court.
Later, the Crime Branch filed a chargesheet against seven of the eight accused in the case after reinforcement was rushed to the court to help the officers enter the premises.
The lawyers shouted slogans against the Crime Branch officials, telling them to go back.
The Bar Association has been supporting the Hindu Ekta Much, which is spearheading a protest against the Crime Branch.
Eight people, including two special police officers, have been arrested in connection with the rape and murder case. Two policemen, one of them a sub-inspector, have also been arrested for allegedly destroying evidence during initial investigation.
The Hindu Ekta Munch has alleged that innocent people have been arrested in the case; it has demanded that the case should be given to the Central Bureau of Investigation, a demand that some senior BJP leaders are backing.
The Crime Branch investigation is being monitored by the Jammu and Kashmir High Court and the probe agency has been submitting status reports to the court.
The Crime Branch in its initial investigation had said the crime was committed to strike fear among nomads and drive them out of Kathua. The girl, according to investigators, was held captive inside a temple, drugged and gang-raped by three accused, including a juvenile.