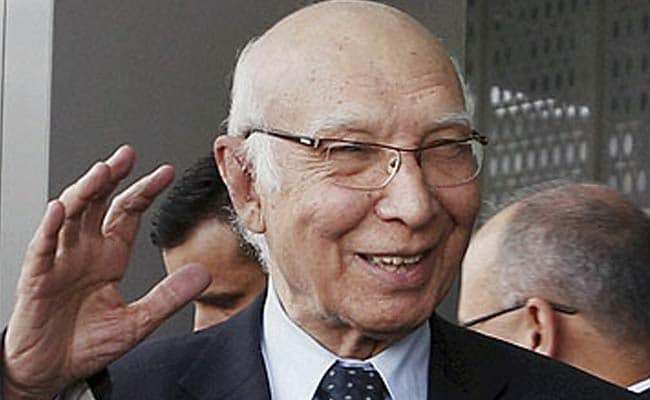 New Delhi:
India will not call off next week's talks with Pakistan's National Security Advisor Sartaj Aziz despite the fact that he will meet with Kashmiri separatist leaders in Delhi, said government sources today.
Hardliner Syed Ali Shah Geelani is among the separatists invited by the Pakistani High Commission to meet with Mr Aziz. On Sunday, National Security Advisor Ajit Doval is to conference with Mr Aziz for an agenda focused heavily on countering terror.
India called off talks last July after Pakistan consulted the separatists before a meeting between their foreign secretaries. A thaw was managed a year later at an unexpected meeting in Ufa between Prime Minister Narendra Modi and Pakistani premier Nawaz Sharif, with an agreement to resume dialogue.
"The government is very clear, there are two parties to the dispute, not three," said sources on Pakistan's decision to consult Kashmiri separatists, a move being seen as part of Islamabad's strategy to create tension that would "lead us to abrogate talks."
"This is a deliberate attempt to irritate India," said S Chandrasekharan, director of the South Asia Analysis Group in Delhi.
The opposition and Yashwant Sinha, a senior BJP leader, have said the dialogue should not be held when Pakistan's targeting of India continues unabated. Government sources say that PM Modi has not renounced his earlier stand of refusing talks till terror attacks against India end. "Talks and terror don't go together was the earlier refrain. These are talks on terror - that's the big difference," said government sources.
Cross-border firing in Jammu and Kashmir has escalated sharply in recent days, and both countries summoning each other's envoys to protest recurring violations of a ceasefire that was declared in 2003. India is also seething over recent terror attacks planned across the border including a strike in Punjab last month. Days after that, Pakistani terrorist Naveed was caught after he attacked a military convoy on a major highway in the Jammu region.