Srinagar:
Fayaz was just 3 years old when he lost both his legs in a mortar shell explosion outside his home in Kashmir's Budgam district, near an army firing range. Today as he turns 6, Fayaz can't understand why schools in Srinagar would not admit him.
For last three months, his parents have been struggling to get their differently-abled son into school. The family says they were turned away by two private schools even after intervention by the director of education.
"Schools refused admission even after the Director of Education sent his officers with me three times. They say they will not be able to handle my child because he can't go to toilet on his own or climb stairs," said Reyaz Ahmad, a labourer, who also lost his daughter when the mortar shell landed outside their home three years ago.
A number of people were killed and injured near the Tosmaidan firing rage in Budgam before it was closed in 2014. The government had refused to extend the lease to the army.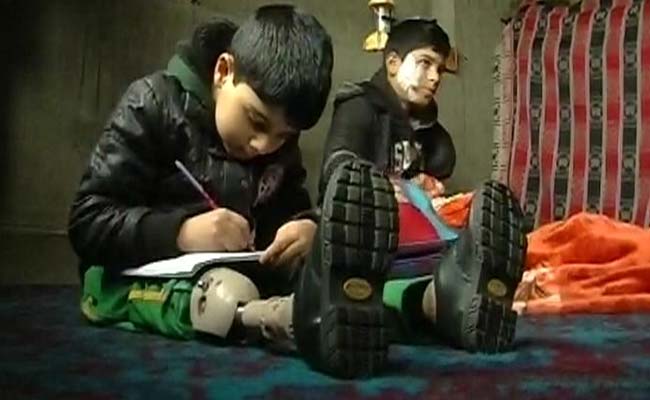 Since then, the life of this family has changed. Initially, the Army helped in the medical treatment of the boy. The admission in school has proved impossible.
Reyaz's wife Firdousa said they had shifted to Srinagar for better education of their children. But even moving to a rented single room in Srinagar's Batmaloo area did not help. It is an endless trauma as schools, one after the other, turn away their child. "For parents, it is like doomsday. We lost our daughter and are now facing this problem for our son," Firdousa said.
Director Education Ajaz Ahmad Bhat acknowledged that he knew about the case and has been trying to get the child admitted in a school.
The state's Education Minister Naeem Akhtar told NDTV that the denial of admission is unacceptable and action will be taken against the schools concerned.
"He is our responsibility and all such children are the responsibility of the state. I'm very sorry about the circumstances in which he lost his limbs. We will see what we can do about the private schools that turned him away," Mr Akhtar added.