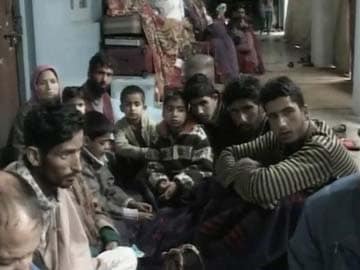 Srinagar:
Kashmir University has been transformed into a relief camp for people who have been fleeing the devastating floods in Srinagar.
The university, which lies along the banks of Dal Lake but is on higher ground, has about 1200 people camping on its campus.
Most of the people are those who live in and around the Dal Lake and has evacuated as the water levels in the lake rose.
"We have left everything behind. Water had reached the second floor, everything has drowned. All our food, all our belongings have been destroyed," a man who had been evacuated from Habak area less than two kilometers away told NDTV.
The chaos has been multiplied by the lack of communication. Most mobile networks and Internet connectivity are down and most people have no idea about their families in other parts of the city.
Even NDTV staffers have been out of touch with their families.
One of them, Sheikh Tariq has not been able to contact his family for three days.
"The last time I talked to them they said we are in the last Floor, Only Allah can save us now. I feel so helpless," an emotionally distraught Tariq said.
The National Highway has been closed and the flooding has affected most of the major hospitals leading to a major shortage of medicines and essential commodities in the region.