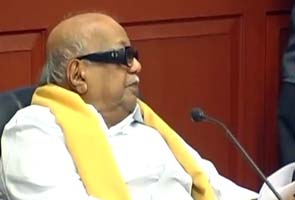 Chennai:
Tamil Nadu Chief Minister M Karunanidhi today said Al Qaeda chief Osama Bin Laden, who was killed in Pakistan, 'took to extremism' as a means to establish the theory he was indoctrinated with and the path chosen by him cannot be labelled as 'Islamic terrorism.'
"His teacher had taught him that history is written with nothing other than blood; that fame is built on skulls and only dead bodies and skeletons formed the base of honour and pride. He accepted this in toto and took to extremism as a tool to establish it during his lifetime," the DMK patriarch said.
Writing in party mouthpiece 'Murasoli,' he said many had attempted to brand this (path of extremism) as 'Islamic terrorism.'
"This is not acceptable. Islam is synonymous with peace. (Prophet) Muhammed had laid down that Islam is a path of peace and tolerance and that every Muslim should be in peace with God and human," he said.
Arguing that any form of terrorism -- right-wing, left-wing or ultra-nationalist -- should be 'nipped in the bud,' he said history ''shows extremists are there in every religion.''
"There is no second opinion that they should be punished. However just the anger may be, but justifiying extremism is not fair. Bin Laden's end proves the saying that one who takes to violence will die by violent means. (DMK founder) the late C N Annadurai had also said that one should not take to violence," he said.