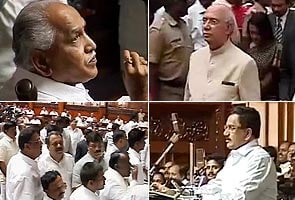 Bangalore:
The political crisis in Karnataka is teetering even more precariously now - the Karnataka High Court says it will deliver a crucial verdict only on Monday on whether 16 MLAs were disqualified incorrectly by the Speaker of the Assembly.
These MLAs are fundamental to the survival of the BJP government. They told the governor last week that they no longer support Chief Minister BS Yeddyurappa. That brought the government into a minority.
However, yesterday, the Speaker of the House disqualified them, effectively barring them from participating in the trust vote. That allowed the Chief Minister to skid through to a razor-thin majority.
Today, the state's governor, HM Bhardwaj, described the vote as a "farce" because it was conducted among complete chaos and by voice. There is no proper documentation, Bhardwaj said, of how different MLAs voted.
He has ordered Yeddyurappa to prove his strength again on Thursday, the 14th. Bhardwaj, at a press conference this morning, described this second chance for Yeddyurappa as an act of "charity", provoking even further the BJP which has for months been arguing that Bhardwaj is not impartial.