Bengaluru:
Highlights
"I will take it up with the party high command," Brijesh Kalappa to NDTV
Congress named 218 candidates in its first list for Karnataka polls
Protests broke out in many parts of Karnataka over ticket distribution
A day after the
Congress released its first list of candidates for next month's Karnataka elections
, many from within the party are raising questions on the ticket distribution. Among them is party loyalist Brijesh Kalappa, who was hoping for a ticket from Madikeri. The senior advocate from Karnataka, who is often seen on prime time television debates vehemently defending his party, vented out his frustration in a Facebook post at 4 in the morning on Monday.
"I have been denied LS 2009, 2014. RS in 2014, 16, 18 and now Assembly. I will swallow the ignominy of being ousted from the race by a Person who joined the Party in 2016, got a Legislative Council Ticket the same year, lost and the same person now bags the Assembly ticket for Madikeri," he wrote.
The Congress has chosen to field HS Chandra Mouli from Madikeri. But what caught the attention of social media users was this punchline from Rajesh Khanna's classic "
Amar Prem
" at the end Mr Kalappa's 150-word post: "But, those FB Friends I love and respect- don't shed tears for me. After so many disappointments, I am entitled to use Rajesh Khanna's immortal words "Pushpa, I hate tears".
"The person who got the ticket joined the party last year. I will take it up with the party high command. I will try to reach the highest structure. It is the party president or Sonia Gandhi who decides these things. I will reach out to them," Mr Kalappa told NDTV on Monday night.
The children of at least four sitting legislators have been given tickets in the first round. Chief Minister Siddaramaiah, 69, will contest from Chamundeshwari in Mysuru, where he had contested seven times since 1983 and won five times. His son, Dr Yatheendra is set to contest from the neighbouring Varuna constituency where his father had been contesting since 2008.
The fifteen women candidates in the list include the daughter of home minister Ramalinga Reddy and the wife of top police officer Hemant Nimbalkar.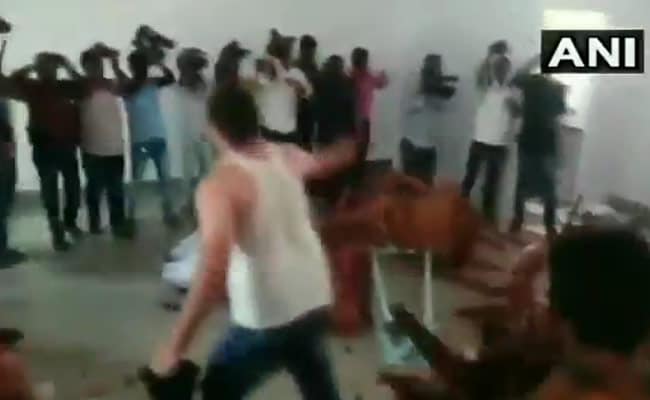 Protests broke out in many parts of the state on Monday as angry Congress workers objected to the absence of their choice of leaders in the list.
Disgruntled workers were seen vandalising the party's office in Mandya
, from where the party is fielding actor-turned-politician Ambareesh.
Ahead of the elections, the Congress is facing a stiff battle from the BJP, as tries to make a comeback in Karnataka, the only big state where is the party is in power.