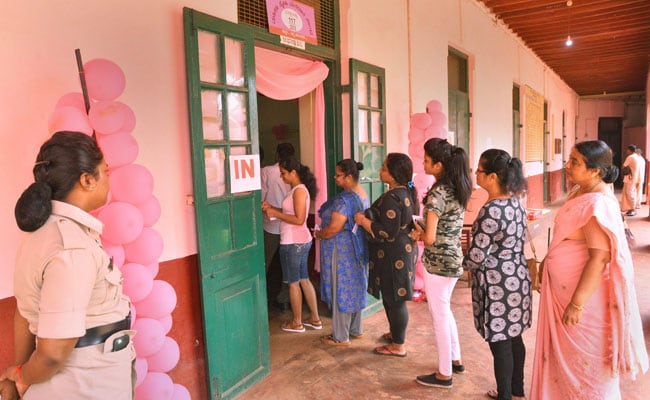 New Delhi:
Karnataka recorded a voter turnout of 70 per cent on Saturday in a closely-fought three-cornered battle between the ruling Congress, JD(S) and the BJP. Polling was held in 222 of 224 assembly constituencies in the state and voters in remaining two constituencies will cast their vote on May 28. Exit polls suggest a cliffhanger in the state and according to NDTV poll of exit polls, the BJP will emerge as the single largest party and JD(S) is likely to play the kingmaker.
Following a bitter war of words during the election campaign, the polling day also saw top leaders making some sharp attacks at the opponents including
Chief Minister Siddaramaiah who called BJP's chief ministerial candidate
BS Yeddyurappa "mentally distubed". The results for the Karnataka assembly elections 2018 will be announced on Tuesday.
Here are the live updates of Karnataka assembly election 2018
Karnataka Chief Minister Siddaramaiah today said he was ready to make way for a Dalit in the state's top post if the party high command so desires. Read
here
.
Siddarmaiah today tweeted he has completed five years in office.
I took charge as CM on 13th May 2013. Today I complete 5 years. As I look back on the 5 years I feel a deep sense of fulfilment. I do have a list of things we could do better; & a list of things that we need to do.

I am looking forward to your love & support for doing more.

- Siddaramaiah (@siddaramaiah) May 13, 2018
"BJP will win more than 125-130 seats. Congress will not be able to cross 70 seats and JDS will not cross 24-25 seats. There is a silent and strong wave in favour of BJP and public anger against Siddaramaiah and Congress," BS Yeddyurappa was quoted as saying by news agency ANI.
BJP's Chief Ministerial candidate BS Yeddyurappa in a presser referred to the exit polls and said BJP was confident of victory. "I saw the exit polls. It's clear that Congress is losing. We will win absolute majority. "
The support of Janata Dal Secular of former Prime Minister Deve Gowda, the exit polls have predicted, will be crucial for government formation by either party. An aggregate of the exit polls have given 97 seats to the BJP, 90 to the Congress and 31 to the JD(S) in the 224-member state assembly.
The exit polls were announced soon
after the polling ended in Karnataka. Five exit polls suggested the BJP will emerge as the single largest party while two suggested BJP will gain majority. Four exit polls suggested Congress will emerge as the single largest party. Read
here
.
Karnataka assembly elections is the first test of Rahul Gandhi since he became the Congress chief in December last year. During campaigning for the Karnataka polls, he asserted he was "ready to become the prime minister." Expectedly, the remark did not go down well with the BJP leaders.
Dismissing the projection of exit polls, Siddarmaiah tweeted this morning telling his party workers "don't worry about exit polls".
Exit opinion polls are entertainment for the next 2 days

Relying on poll of polls is like a person who can't swim crossing a river on foot relying on a statistician who told him the average depth of the river is 4 feet

Please note average of 6+4+2 is 4. At 6 feet you drown! 1/2

- Siddaramaiah (@siddaramaiah) May 13, 2018
So, Dear party workers, supporters & well wishers, don't worry about exit polls. Relax & enjoy your weekend.

We are coming back. 2/2

- Siddaramaiah (@siddaramaiah) May 13, 2018