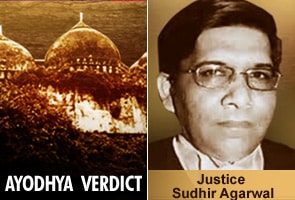 Lucknow:
Delivering the landmark verdict on Ayodhya title suits, Justice Sudhir Agarwal held that the area covered by the central dome of the disputed structure is the birth place of Lord Ram "as per the faith and belief" of the Hindus and should not be "obstructed or interfered" with in any manner.
However, he said the area within the inner courtyard belonged to members of both Hindus and Muslims since it was used by both since centuries.
He ruled that Nirmohi Akhara, another main petitioner in the title suits, shall be entitled to possession of area covered by the structures Ram Chabutra, Sita Rasoi and Bhandar in the outer courtyard in the absence of any person with better title.
However, the open area within the outer courtyard shall be shared by Nirmohi Akhara with the party representing the Ram deity since it has been generally bused by the Hindus for worship at both places, he directed.
He said the share of the Muslim parties shall not be less than one-third of the total area and if necessary, it may be given some area of outer courtyard.
The judge said the land acquired by the Centre under the Ayodhya Act, 1993 shall be made available to the concerned parties in such a manner that all three of them can utilise the area by having separate entry for egress and ingress of people without disturbing each other's rights.
Justice Agarwal, who dismissed two suits and party decreed two others, directed that for a three-month period, the parties unless directed otherwise shall maintain status quo as on today in respect of the disputed structure.