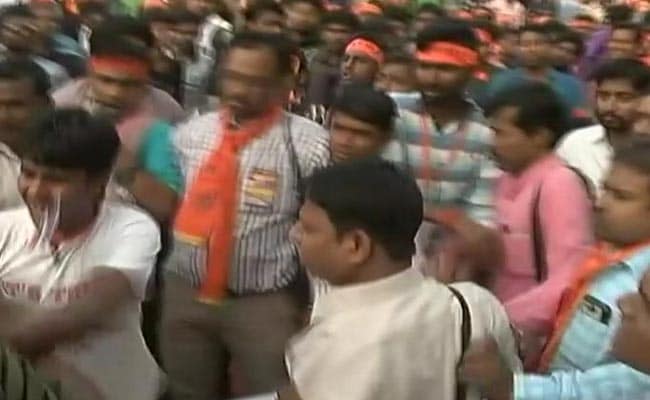 Kolkata:
Members of a right wing group assaulted mediapersons on Wednesday when they tried to meet and question 14 "Muslims" the outfit "converted" in public at an event organised in the heart of Kolkata. Several reporters were injured. Chief minister Mamata Banerjee condemned the incident and police detained the advisor of the organization for questioning.
Hindu Samhati, the right wing group, had invited the media to its 10th foundation day event addressed, among others, by former army officer General GD Bakshi. Some of the speeches from the Samhati stage on Rani Rashmoni Road were provocative and abused the media.
As the speeches ended, an extended family of 14, including four to five infants led by one Hossain Ali, were brought on stage, handed the Samhati flag and, the host announced, converted from Islam to Hinduism.
"These conversions were happening already," announced Tapan Ghosh, Samhati founder who is now advisor, adding, "and now we will do it in public."
When the media tried to reach the newly-converted family, primarily to find out about their background and if the conversion was voluntary, Samhati activists first abused reporters, then physically stopped them from reaching the family and finally beat them up. The incident has been condemned by civil society and most political parties.
"The Hindu Samhati is illiterate and barbaric. They never do anything good. They are always causing trouble. They are neither Hindu nor do they have '
samhati
'. Their kind of activity will not be tolerated in Bengal," said Firhad Hakim, senior minister in the Mamata Banerjee government.
The advisor of Hindu Samhati, who is also its founder, was arrested late on Wednesday evening.
Poet Joy Goswami said, "Those being converted, are they being converted willingly? The media has the right to ask. It's shocking that reporters who went to ask that question were stopped and beaten."
"If the conversion is legal, what is the problem?" said BJP leader Sayantan Bose. "But we condemn the attack on the media."
"The Samhati must have been doing something really wrong. Which is why, when the press enquired about it, they became violent," said CPM lawmaker Sujan Chakraborty.
Till recently, the Hindu Samhati was viewed as a fringe group and, politically, largely ignored. But over the last couple of years, it has grown a public profile by being vocal and active during the communal tensions at Bashirhat and earlier at Dhulagarh.
The Samhati had also demanded that Mamata Banerjee ban the sale of beef in the state during Durga Puja. Ms Banerjee had refused to do any such thing. But she did take note of the outfit and warned of action if it stirred the communal pot.