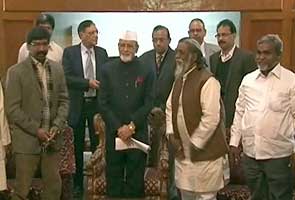 Ranchi:
Efforts to form the next government in Jharkhand picked up pace today with leaders of the Jharkhand Mukti Morcha (JMM) and the Congress separately meeting Governor Syed Ahmad.
The JMM leaders requested the Governor to give the party a chance to form the next government. "We told the Governor there is scope to form a new government in Jharkhand and asked for some time to prove our majority," JMM leader Hemant Soren said.
Sources said the Governor is tonight likely to send a report to the Centre on the political situation in Jharkhand and recommend President's Rule. He is unlikely to suggest dissolution of the Assembly.
The JMM, which pulled out of its 28-month coalition government with the BJP last week, may be looking to the Congress for support, but has got no assurance so far.
After meeting the Governor, Rajendra Singh, leader of the Congress Legislature Party, said: "We are against President's Rule. We feel the Assembly should not be dissolved. The JMM has staked claim and should be given a chance to form the next government. The decision to back them will be taken by the Congress leadership in Delhi."
The JMM has 18 members in the 81-member Jharkhand Assembly and the Congress 13.
The Rashtriya Janata Dal, which has five members in the Assembly, on Saturday demanded President's Rule.
Top JMM leaders, led by Mr Soren, had been in Delhi on January 9 to meet Congress leaders and try and stitch together an alliance.
The JMM would prefer a tie-up with the Congress to keep Babulal Marandi's Jharkhand Vikas Morcha away. It also wants the chief minister's post for Hemant Soren. But the Congress is wary of the JMM's poor record in keeping coalitions working.
Jharkhand has seen eight governments in the last 12 years.