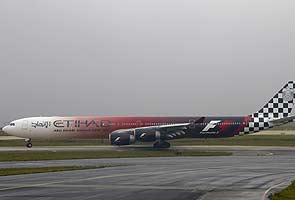 New Delhi:
Civil Aviation Minister Ajit Singh has defended the proposed deal for Gulf carrier Etihad Airways to buy 24 per cent of Jet Airways for Rs 2,058 crore. He has also denied speculation that he is contemplating quitting the UPA government as he is upset that the deal has hit turbulence.
Last month, the Foreign Investment Promotion Board (FIPB) deferred a decision on clearing the Jet sale to Etihad. Also, the Prime Minister's Office has raised concerns about a decision to hand 36,670 extra seats on Indian flights to Abu Dhabi, whose national carrier is Etihad, in a separate bilateral agreement signed on the same day as the Jet-Etihad deal was announced.
One of the reservations shared is whether the bulk of the seats on this route would be controlled largely by the Jet-Etihad entity. A note written by an official in the Prime Minister's Office in June has said that the cabinet must review this decision.
The civil aviation minister said that he has received a note from the Prime Minister's Office about the deal which is the largest overseas investment in an Indian carrier since India allowed foreign firms up to a 49 per cent stake in the country's airlines. He said all PMO queries had been answered and emphasised that the Jet Etihad deal was important for Foreign Direct Investment or FDI.
"When the deal was signed the PM asked for a cabinet meeting which is alright," Mr Singh told NDTV. He also said, "I don't see a problem in the Abu Dhabi deal going through....ask the PMO if the deal is on hold despite being signed."
The agreement on additional seats for Etihad was sanctioned by a group of four ministers - Finance Minister P Chidambaram, Commerce Minister Anand Sharma and External Affairs Minister Salman Khurshid, apart from Mr Singh - after the PM asked them to look into it in April.
The note from the Prime Minister's Office says that the Civil Aviation Minister requested Dr Singh to over-ride objections raised earlier by a group of senior bureaucrats from different ministries. Among the concerns listed were that Abu Dhabi could divert traffic from India to North America and Europe, and that companies who are operating airports in India will see this as unfair competition.
The BJP's Shahnawaz Hussain said today, "There is something wrong with Jet-Etihad deal. Before the deal extra seats are given to Etihad," adding that when he was aviation minister in the NDA regime, "such matters did not go the cabinet."
Senior MPs like Dinesh Trivedi of the Trinamool Congress and the Janata Party's Subramanian Swamy have written to the Prime Minister, alleging that the government's decision to increase the number of flights between India and Abu Dhabi was aimed at facilitating the Jet-Etihad deal.