Srinagar:
The Jammu and Kashmir assembly today passed a resolution seeking to implement the Goods and Services Tax or GST in the state. The resolution was passed amid strong reservations by the opposition that extending GST regime will undermine the special status of Jammu and Kashmir. The central GST Act -
India's biggest tax reform since Independence
which was rolled out on July 1 - doesn't apply to the state. The state cabinet will now recommend the resolution to President Pranab Mukherjee and through a Presidential Order, the GST Act will be extended to the state which has its own separate constitution.
The resolution however made it clear that new tax reform will not erode the constitutional status of the state and there will safeguards to protect the fiscal autonomy of the state.
Yesterday when government moved a resolution in the house, it was clear that ruling PDP and BJP have arrived at a compromise formula.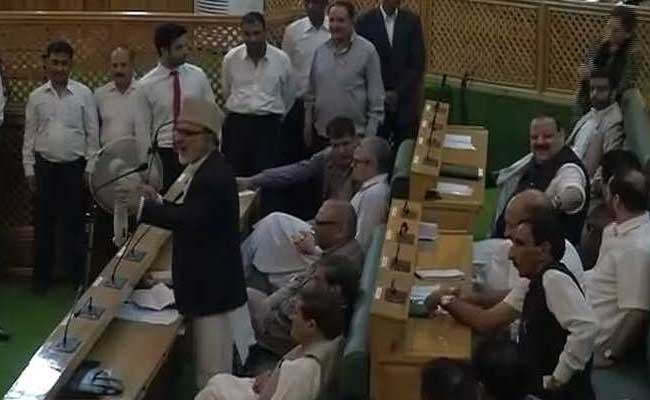 The resolution says that GST should be extended to the state in a modified manner and asked for safeguards in existing constitutional position of Jammu and Kashmir in the Union of India.
"I will reiterate... that implementing GST module in Jammu and Kashmir will not and shall not and could interfere with the special status of Jammu and Kashmir," said BJP legislator R S Pathania who explained party's stand in the house.
The opposition however alleged that the resolution is a subterfuge and once the GST is implemented, Jammu and Kashmir will lose its fiscal autonomy. So far, the state has absolute authority to impose taxes. The opposition National Conference and Congress wants the government to pass a similar act in the state instead of implementing GST in its present form.
"Even now central service tax is being collected by state government and is passed on back to Government of India. This is no big deal. Only thing is, you have to do it within jurisdiction of state constitution," said Nawang Rigzan Jora, Congress legislative party leader.
Residents of the state are also apprehensive GST in the state. At a cottage shop selling exquisite handwoven Kashmiri shawls in Srinagar, Tariq Ahmad said he is worried about their trade once GST is implemented. So far handcraft sector is tax free in the state because thousands financially disadvantaged artisans are associated with the trade.
"Our artisans earn 150-200 rupees per day. How he can give us input cost of GST? We can't get that input cost. If GST applies in this, the trade will go," said Tariq Ahmad.
Get Breaking news, live coverage, and Latest News from India and around the world on NDTV.com. Catch all the Live TV action on NDTV 24x7 and NDTV India. Like us on Facebook or follow us on Twitter and Instagram for latest news and live news updates.