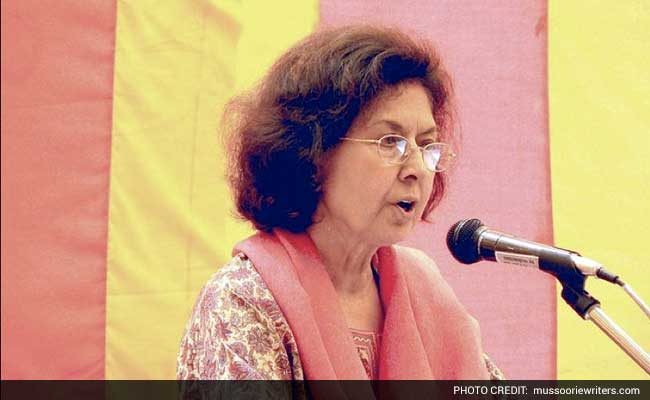 Mumbai:
Finance Minister Arun Jaitley's comments on writers, historians, scientists and filmmakers returning awards to protest the climate of intolerance in the country show that the Narendra Modi government is rattled by the public outcry, noted writer Nayantara Sahgal said today.
Ms Sahgal was among the first writers to give back her Sahitya Akademi award as a mark of protest against killing of rationalist MM Kalburgi in Karnataka and the Dadri incident last month in which a man was killed in a mob attack for allegedly eating beef.
"I am afraid the government is very rattled and nervous about this huge public response and is acting in the way it is and not in an intelligent way," Ms Sahgal said on the sidelines of "Tata Literature Live! the Mumbai Litfest".
"The country is anguished about what is happening to defenceless people who are being gunned down, who are having ink thrown on their faces, who are being brutally threatened," she said.
"I live in Dehradun. In the bazaar yesterday, a man said to me: 'yeh log khali ladai karna jante hai; inko nahin maloom kal kya hoga' (These people know only to fight, they don't know what will happen tomorrow)... They are common defenceless people... If a man like Akhlaq (the Dadri victim) can be dragged out from his house and brutally lynched...," Ms Sahgal said.
Talking to reporters in Patna, Mr Jaitley earlier in the day stepped up attack on those returning awards by calling them "rabid anti-BJP elements" and stuck to his guns that their protest is a manufactured rebellion.
Ms Sahgal, participating in the panel discussion on 'Chacha Pe Charcha- a talk re-evaluating Nehru's contribution" at the event, said the country's first prime minister was an institution builder.
"Nehru attended Parliament daily. He encouraged Opposition and nurtured it," said Ms Sahgal, who is also Jawahar Lal Nehru's niece.
"What I want to say today is that cohesiveness is being torn apart by the idea of Hindutva. Earlier they divided us. Now they are redividing us as Hindus and others. We're not Hindus and others. We're Indians... We need to debate and discuss cohesiveness and Hindutva," she said.