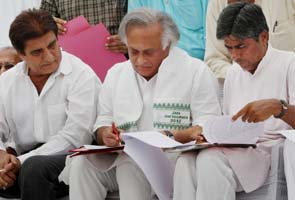 New Delhi:
Union Rural Development Minister Jairam Ramesh's remark that the country needs more toilets than temples has stirred a political row. While the BJP hit out at Mr Ramesh for hurting the 'fine fabric of faith and religion' in the country, his own party, the Congress, disapproved of it.
On Friday Mr Ramesh had said, "I think toilets are more important than temples. No matter how many temples we go, we are not going to get salvation. We need to give priority to the toilets and cleanliness."
Slamming Mr Ramesh's remarks, the BJP said that one should not get into the debate of what- a temple or a toilet- is more important. Party spokesperson Rajiv Pratap Rudy said, "Making of toilets and having faith in a religious place of worship are two different things. India is a multicultural country where we should have unblemished faith in a temple, a mosque, a gurudwara or a church. You cannot juxtapose the two."
He alleged Ramesh has made a political statement and advised him to instead concentrate on "salvaging the battered image of the UPA government".
"While (public) toilets, which have to be built by the administration, are necessary, religion is important as people have faith in it. It would be good for Mr Ramesh that out of his exuberance he stops making such comments which will destroy the fine fabric of religion and faith," Mr Rudy said.
The Congress appeared to disapprove of Mr Ramesh for his comment. It said the party respects "the sanctity of every religious place". Party spokesperson Manish Tewari said, "I do not know the statement attributed to Mr Ramesh. Perhaps it could have been distorted and he is in the best position to explain. Congress party believes in
sarvadharmasambhav
- equal respect for all religions and religious places."
Mr Ramesh launched the 'Nirmal Bharat Yatra' on Friday from Sevagram in Maharashtra's Wardha district. The objective of the campaign is to make the country open-defecation-free and to ensure proper sanitation in rural India. The yatra will end in Bihar's Bettiah on November 19 after covering almost 2,000 km.
(With inputs from Agencies)