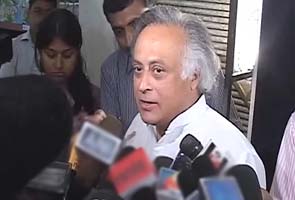 New Delhi:
Just a week after taking charge as the new Rural Development Minister, Jairam Ramesh has readied the draft of the Centre's new land acquisition bill, say sources.
Mr Ramesh, according to sources, has broadly stuck to the guidelines of the Sonia Gandhi-led National Advisory Council (NAC) that calls for complete acquisition by the government for land meant for private projects. But the ministry has attached a rider which says that 80 per cent of the land owners must agree to the acquisition.
The new rules, sources add, are applicable to land over 100 acres.
Sources also say that Mr Ramesh plans to have another round of consultations on Sunday before he puts out the bill on the ministry's website.
The minister had, on the first day of assuming office, taken the government head on over the contentious bill. Mr Ramesh had made it clear that he would accept the recommendations of the NAC, something that the Centre had, just a week earlier turned down.
(Read: Jairam reverses govt stand on Land Acquisition Bill)
Vilasrao Deshmukh was heading the ministry at the time.
What Mrs Gandhi and the NAC want is for acquisition and rehabilitation - so far handled via different bills - to be combined into one new Act. This, the government said, would take too long. Mrs Gandhi's team also wants the acquisition of land for private projects to be handled completely by the government which would pay the farmers and then be reimbursed by entrepreneurs or corporates. The government says that's impossible, and that the government can acquire upto 30% of the overall land with the private party handling the rest once it has managed all the required clearances.
Mrs Gandhi's NAC also wanted land from farmers to be acquired at six times the market rate. The government says that's unfeasible. Instead, it had suggested the farmers should get at least 60% more than the market rate for their land. So if an acre is worth 10 lakhs, a farmer would get 16 lakhs according to the government's math, and 60 lakhs if the NAC's formula is followed.