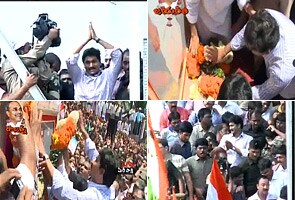 Srikakulam:
Congress MP Y S Jaganmohan Reddy, who has been critical of the party leadership for opposing his yatra, has come out against Chief Minister K Rosaiah about his eyeing the Chief Minister's post.
"Rosaiah reportedly said that I am in a hurry to become the chief minister, I am asking you, am I here to console or to ask for chief minister's post? I have come here to console. I do not understand why there is worry about the chief minister's post. I think we should be ashamed of this politics," Jagan said.
Rosaiah, who is opposed to the yatra, had told NDTV that "he (Jagan) is a young boy with a lot of future. He needs proper advice. He can dream, aspire and try for the CM's post but there is a method to try and get it.
"It is not a post to be captured by doing something. Jaganmohan Reddy could have waited for some time and staked his claim."
Rounding off his four-day yatra to the district, Jagan said at Ranasthalam on Sunday,"...When I started the yatra I thought local MLAs would also come with me. I do not understand why consoling is also politicised. Though the MLAs and MPs are not with me their hearts are here. They are sending their family members with me."
Son of late Andhra Pradesh chief minister Y S Rajashekhara Reddy, a defiant Jaganmohan is continuing his controversial 'odarpu yatra' (condolence march) ignoring reservations voiced by the Congress leadership.
He started his day on Sunday from Rajam in the district and met the family of D Narasimha Rao, who reportedly died of shock over the death of YSR, at Mushidivalasa village.
Criss-crossing the villages, he reached Nandiwada and Eccherla by evening. He unveiled the statues of YSR on the way.
Jagan starts his tour in East Godavari district on Monday, for which MLAs from the district have openly announced their decision to support.
Despite reservations of the Congress high command on the yatra, two MLAs from East Godavari district said they will participate in the yatra.
D Chandrasekhar Reddy, Congress MLA from Kakinada and a close confidante of Jagan, said legislators in the district have conveyed their readiness to participate in the yatra.
"All MLAs in the district are ready to take part. The yatra will start from Tuni. It will be successful," he said.
Congress MLA from Razole R Varaprasad said he would participate in Jagan's yatra and that he was not afraid of any disciplinary action.
"I am MLA today because of Rajashekhara Reddy. I feel it is time to repay the debt I owed to him. I will accept happily if any action is taken against me. But, I do not think I am doing anything wrong," he said.
Macherla MLA P Ramakrishna Reddy and Koduru MLA K Srinivasulu reportedly visited Jagan during the tour on Saturday. Rayachoti MLA G Srikanth Reddy and Dharmavaram MLA Venkata Ramana Reddy were following the MP, overseeing the tour arrangements.
Meanwhile, Jagan's remarks that MLAs are being prevented from joining his yatra have attracted sharp criticism from several senior party leaders.
"Jaganmohan Reddy has clearly stated in his open letter that the yatra is a personal and non-political tour. Then what is the need for MLAs, MLCs or any political leaders to join the yatra? Why this debate at all"," N Tulasi Reddy, state Congress spokesperson, asked.