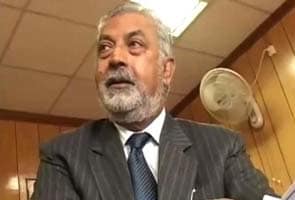 Srinagar:
Senior Congress leader and Jammu and Kashmir minister Taj Mohiuddin is facing serious allegations of encroaching forest land in south Kashmir. Although he has denied the allegations, documents from the forest department with NDTV indict the minister for illegally occupying forest land.
The State Accountability Commission has slapped a contempt notice on Mr Mohiuddin for making false statement that the commission had closed his case and given him a clean chit. A judgement on whether to initiate contempt proceedings against him has been reserved for December 24.
For the last several years, J&K's Irrigation Minister Taj Mohiuddin has occupied the land dotted with dozens of conifer trees in the heart of compartment number four of the forest division in the Shopian district in south Kashmir.
There is a swanky accommodation to boot and the minister insists that he's the legitimate owner. He claims he owns over two acres of land there, but documents accessed by NDTV show otherwise.
These forest department documents nail Mr Mohiuddin for encroaching forest land at Sedov village in south Kashmir. The department has even written several letters to revenue authorities and the state vigilance organisation making it clear that this land is purely forest land.
In recent months there has been political noise on the issue.
After it came up in the recent session of the J&K legislature, a House Committee was formed to probe the allegations. But the committee dissolved almost immediately after pressure from Congress legislators and resignation of two National Conference members from the panel.
Mr Mohiuddin says that the constitution of a House committee against a sitting minister was unconstitutional and has alleged political conspiracy by his rivals.
In his line of fire is Amrit Malhotra, the chairman of Legislative council who constituted the committee.
"I have 18 kanals (two acres) of propriety land in it. There is a full-fledged orchard in it. Also I have the revenue land over which I have applied for propriety rights for regularisation of position. This is only politics. When you go up, they try to drag you down," says Mr Mohiuddin.
The minister adds that allegations against him have been probed and dismissed by the State Accountability Commission even as the very same commission has issued a contempt notice to the minister asking to him to appear in person for making these false claims.
But land grab here isn't restricted to one man. Over the last 20 years, thousands of trees have been cut down in this area.
The opposition says it reflects the inability of the state government to act against those with clout.
"I don't think it needs a comment after looking at the picture how land has been grabbed in the midst of thick forest which has been denuded, the trees have been felled. It appears even to a blind person that it's a land grab" says Naeem Akhtar chief spokesman, PDP.