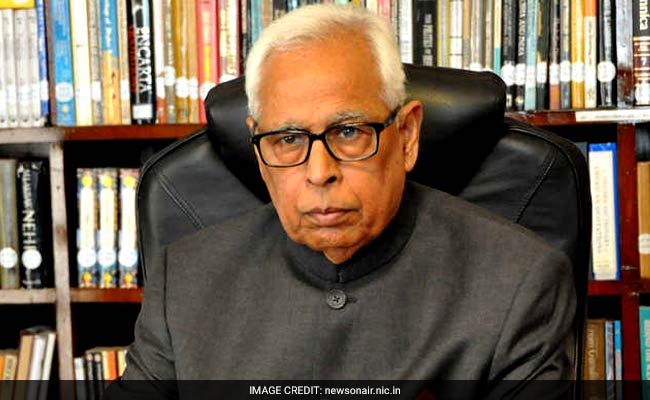 Highlights
NN Vohra serving second term as Jammu and Kashmir Governor
Met Rajnath Singh, reportedly said he wants to quit
Was told replacement not identified yet: sources
New Delhi:
The Governor of Jammu and Kashmir, NN Vohra, on Monday told Home Minister Rajnath Singh that he would like to resign, said sources. Rajiv Mehrishi, the most senior bureaucrat in the Home Ministry, told NDTV that those reports are incorrect.
But sources who asked not to be named say that Mr Vohra, whose second term as Governor of the troubled state began in April 2013, was asked by the centre to remain in office because a replacement for him has not been identified.
Yesterday, Chief Minister Mehbooba Mufti also met with the Home Minister in Delhi and the Governor's possible exit was reportedly discussed. When asked if Mr Vohra, who is 81, has asked to be replaced, Ms Mufti's office told NDTV, "We have no such information."
The reasons for Governor Vohra's reported move to quit office are unclear though those who work closely with him say that he has been unhappy with the handling by both the centre and the state of the Kashmir Valley since the killing in July 2016 of terrorist Burhan Wani, which triggered months of violence, funded and incited in part by Pakistan.
At least over 80 people were killed and over 5,000 injured in near-daily clashes between Valley residents and security forces.
Mr Vohra was appointed in 2008 by the Congress-led government as Jammu and Kashmir's first civilian governor in nearly two decades. Before that, he served as the centre's interlocutor of representative in the state and held talks with different stakeholders on establishing peace and fostering development.
Last month, there were newspaper reports of him sending his resignation in writing to the centre;
the Financial Express said
he could be replaced by Home Secretary Mehrishi who is to retire at the end of this month as a bureaucrat.