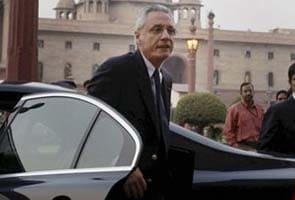 New Delhi:
The Supreme Court has ruled that Italian Ambassador Daniele Mancini cannot leave the country, a consequence of Italy's refusal to return two marines to face trial in India.
Mr Mancini had given a written assurance to the Supreme Court that the naval officers would return to face murder charges for shooting two fishermen off the Kerala coast in February last year. Massimiliano Latorre and Salvatore Girone were then allowed by the court to travel home for four weeks for Easter and to vote in the national election.
On Monday, Italy informed India that the men would not be sent back; Prime Minister Manmohan Singh warned yesterday "there could be consequences."
The Supreme Court has also asked Mr Mancini to explain Italy's reneging of its assurances in court.
Experts say that the Supreme Court's order for the envoy to stay in India till the next hearing on Monday may run contrary to diplomatic norms.
A spokesperson for the Foreign Ministry said the government is obliged to follow Supreme Court rulings, but refused to be drawn on whether this would require the government to break the Vienna Convention which governs diplomatic relations.
"We would not like to get into hypothetical situations," Syed Akbaruddin said at a press conference in New Delhi. But he added that "if the diplomatic agent willingly submits to the jurisdiction of a court, then that jurisdiction applies".
Italy says that its decision was taken after India ignored its written offer for diplomatic negotiations, and because New Delhi does not have jurisdiction over the case. (
Read: Will search for an acceptable solution, Italian officials tell NDTV
)
The marines were guarding an Italian tanker off the Kochi coast in February last year when they say they mistook two fishermen for pirates, and shot them.
Italy claims the shooting took place in international waters; India disagrees.