Thiruvananthapuram:
Highlights
Scientists have made material called silica aerogel or 'blue air'
Has excellent thermal resistance and can be used as a filler in uniforms
So light, it can be delicately placed on a flower head
Scientists at the Vikram Sarabhai Space Centre, Thiruvananthapuram, India's premier rocket lab recently manufactured the world's lightest material called silica aerogel or 'blue air.'
This material, scientists say, has excellent thermal resistance and if used as a filler in soldiers' uniforms it can possibly help save many lives at the Siachen glacier.
The material has uses both in space and on Earth.
So light weight that it can be delicately placed on a flower head, ISRO has made the world's lightest known material, sometimes also called 'frozen smoke.' Scientists hope it can be used to insulate rocket engines.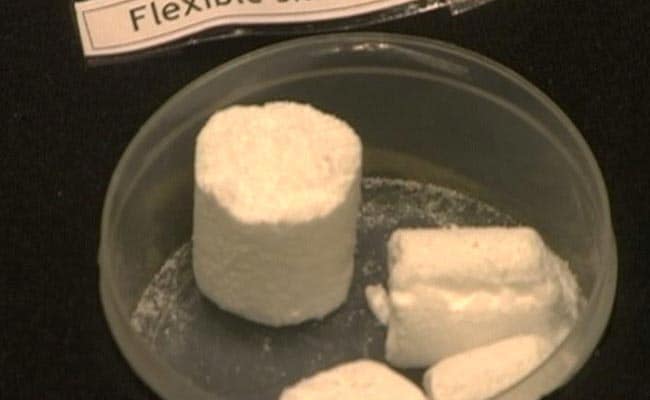 Dr K Sivan, Director, Vikram Sarabhai Space Centre told NDTV, "It is the world's lightest synthetic material made by man. It is a highly guarded technology. We have indigenously made it in India. It is used for insulating the rocket's surface."
But, the uses extended beyond rocket insulations. "It has applications for thermal jacket, foot insoles, as well as for window glazing. It is extremely useful for people working in very cold environments, in a very strategic way," Dr Sivan added.
Turned into fabric, this aerogel could have possibly saved Lance Naik Hanamanthappa Koppad and his fellow soldiers' lives when they were buried under an ice wall at the Siachen Glacier in February.
Frozen smoke can be used to make light weight clothing, if painted on windows it can keep buildings cool or warm. The matrix of aerogel is made up of 99 per cent air. The material is likely to be used on India's moon rover in Chandryaan-2 mission.
The material is still very fragile and brittle and scientists at the space centre are still finding ways to make it tough and resilient. Silica Aerogel is the lightest synthetic material ever made by man.
Get Breaking news, live coverage, and Latest News from India and around the world on NDTV.com. Catch all the Live TV action on NDTV 24x7 and NDTV India. Like us on Facebook or follow us on Twitter and Instagram for latest news and live news updates.