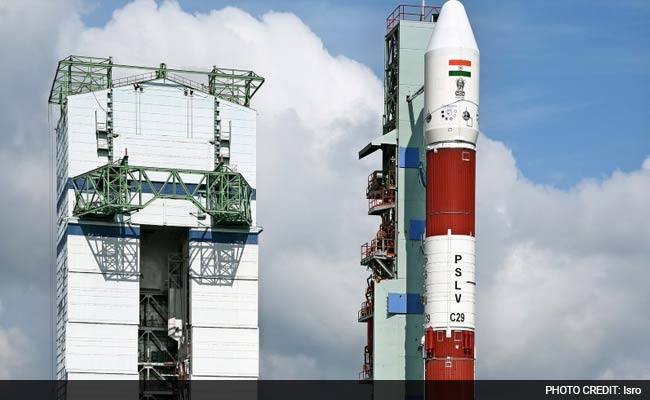 Thiruvananthapuram:
Indian Space Research Organisation has successfully reignited the fourth stage of its workhorse Polar rocket during the PSLV-C29 mission after putting in orbit six Singapore satellites, agency officials said in Thiruvananthapuram today.
The engine in the upper stage of the PSLV was shut off and re-started after placing the satellites in orbit yesterday, ISRO's Liquid Propulsion Systems Centre (LPSC) Director S Somanath said.
"We tried it for the first time and it was a success," Mr Somnath said, adding that the technique would be useful when launching multiple satellites in different orbits.
The LSPC director was was speaking to reporters on the sidelines of the inauguration of the 23rd national and first international Heat and Mass Transfer Conference (IHMTC 2015), organised by (LPSC).
The PS4 is the uppermost stage of PSLV, comprising two 'Earth storable' liquid engines.
Veteran nuclear scientist Anil Kakodkar, who inaugurated the conference, hailed ISRO for the successful PSLV-C29 mission.
"It's a fantastic technological achievement that so many foreign clients are vying for taking their satellites on board PSLV. It is a great recognition," he said.
The PSLV-C29 injected the six Singapore satellites in orbit completing the exercise in about 21 minutes after it blasted off from the spaceport of Sriharikota, about 110 km from Chennai last evening.
Speaking soon after the launch, an ISRO official had said in Sriharikota that the agency was carrying out the experiment to re-ignite stage four of the rocket for four seconds from 67.25 minutes (after the lift-off).
"After injecting all the satellites we are carrying out a major experiment to ignite once again PS4. This aspect is going to be a major mission flexibility to plan different orbital missions in a single launch," he had said.