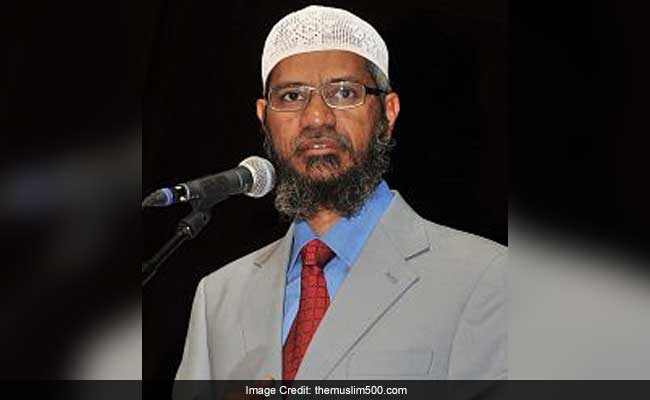 New Delhi:
Islamic preacher Zakir Naik, who is wanted by India over allegations of terror-related activities and inciting extremism through hate speeches, has been banned from giving speeches in Malaysia in the interests of "national security". He had been charged with making inflammatory speeches and questioned by local police over his intent to provoke a breach in peace by making remarks about Hindu and Chinese communities living in the Muslim-majority nation.
"Yes. Such an order has been given to all police contingents, and this was done in the interest of national security and to preserve racial harmony," Datuk Asmawati Ahmad, Police Head of Corporate Communications, was quoted in an ANI report.
On August 3, Zakir Naik had said Hindus in Malaysia have "100 times" more rights than Muslims in India. He also made insensitive remarks against the Chinese Malaysian community. He apologised for those comments today, claiming his comments had been taken out of context.
"It was never my intention to upset any individual or community," Zakir Naiks said in his statement, adding, "It is against the basic tenets of Islam, and I would like to convey my heartfelt apologies for this misunderstanding."
Zakir Naik, 53, a controversial figure who labelled the 9/11 terror attacks an "inside job", fled India three years ago and moved to Muslim-dominated Malaysia, where he was granted permanent residency by the previous government.
In July last year India made a formal request to Malaysia asking for his extradition. However, Prime Minister Mahathir said he would not be deported "as long as he is not creating any problem".
"He (Zakir Naik) has PR status. We can take that away if he does something that is detrimental to the well-being of the nation," the Prime Minister was quoted in a report by news agency ANI.
Last week Malaysian Prime Minister Mahathir said that status could be revoked if it could be proven that his actions had harmed his country's "well-being".
Reacting to the comments, the Prime Minister had said it was "quite clear" Zakir Naik wanted to participate in racial politics. "He is stirring up racial feelings. The police will have to investigate whether it is causing tension; obviously, it is," he said.
He said that as a permanent resident Zakir Naik is not allowed to participate in politics.
"You can preach (religiously) but he wasn't doing that. He was talking about Chinese going back to China and Indians going back to India. I have never said such things. But he did. That is politics," Mr Mahathir added.
The Malaysian government has previously appeared reluctant to move against Zakir Naik for fear it could upset some Muslims as well as provide ammunition to political opponents.
Muslims make up about 60 per cent of the 32 million people in Malaysia. The rest are mostly ethnic Chinese and Indians, most of whom are Hindus.
With input from ANI, PTI, Reuters