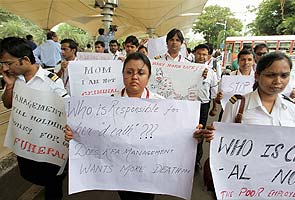 Mumbai:
"Asking for salaries is not a crime ", shouts one banner. The other poster questions, "Is your party over Mr Mallya?" Yet another hollers, "Criminal Executive Officer, Go Away!" Around 150 odd engineers, pilots and cabin crew of the Kingfisher Airlines marched with them.
Wearing black armbands, the group meandered from Terminal 1A at Mumbai's domestic airport to Kingfisher House, the airline's corporate office in the city.
A protest in the shadow of a suicide. Yesterday Sushmita Chakravarty, wife of Manas Chakravarty hung herself at her residence in south-west Delhi. Depressed since a year, she wrote about the financial strain beating down on the family since her husband had not been paid for six months.
"It's tragic," said a captain who specified that he does not want to be named. "What's worse is that the management has not even bothered to condole the family. The apathy and the utter disregard has made us very angry. That's why I came today to express my protest."
"We can't let anything like this happen again. I have come here to tell my colleagues and their families, you are not alone. We are all in this together," said a cabin crew member who also did not want to be named. Employed with the airline since its inception in 2005, she said she does not want to quit. "You have no idea about the pressure we are under from our families to quit. But does anyone understand that we have invested our time and life in this company, what about that?" she asked.
She said there are around 800 to 1000 odd cabin crew at three bases in Delhi, Mumbai and Bangalore. Unlike the pilots and engineers of Kingfisher, the cabin crew is still a disparate group.
250 odd pilots of Kingfisher and around 270 engineers are attempting to form two associations to organise themselves better in this crisis. They are yet to register them. A lack of unity has cost them before, and they are unwilling to take any chances now. Earlier strikes by employees fizzled out as groups in each base took unilateral decisions. Since December 2011 Kingfisher has witnessed several strikes, mostly by pilots, many hardly lasting for a few hours let alone days.
"If we want our salaries, we have to become one group. We have to fight as one," says a young engineer, one more person refusing to give his name. "You can say I am from Kingfisher engineering staff."
Right at the head of the march was Shruti, a technician. She was among the few who dares to disclose her identity. "I stopped coming to office because I have no money to travel. Can anyone imagine not having salary for seven months and somehow carrying on? How? I have EMIs to pay. I have to support my parents back home in Kolkata. I have borrowed from friends and I need to pay them. What to do?" the exasperation in her voice conveying more than the words themselves.
Earning around Rs 40,000 a month, Shruti hopes the company will pay her dues. "God knows what Vijay Mallya will do," she said finally before her colleagues whisk her away.
While everyone marched together, they formed little groups when they reached the Kingfisher House. Pilots converged among themselves, senior engineers huddled together while the technicians all fanned out at the fringes. And the concerns of each group varied. While unpaid salary remained a central theme, for each group the nuances differed.
"You know they have not given us our form 16 since months? How are we to manage our affairs? And they have defaulted on Provident Fund too," said a senior captain on the company's airbus fleet.
"I left a stable government job in the east of the country to join this very lucrative commercial carrier. Who knew there would come a time, I would have to protest to get my salary and form 16s," he laughed, but refused to be named.
A group of young technicians were not so worried about their Form 16s. "First, let them deposit our salary, let me pay off my rent and debts, then I will worry about paperwork," said one of them.
Technicians maintain and repair aircrafts and its parts. Their starting salaries range from Rs 12,000 to Rs 60,000, while the engineers can earn anywhere from over a lakh to two and a half lakh rupees per month.
Why don't they quit? Surely it's better than the uncertainty? Pulkit Deka, an engineer said, "The job market is saturated." His friend said, "So many Kingfisher engineers have quit. They are all out there waiting to be absorbed somewhere. Other airlines know this, so they are offering lower salaries. If we quit here we lose our salary, they will not pay us at all. If we join there we don't get our worth. We are stuck."
And so is Kingfisher Airlines. Today the aviation regulator - Directorate General of Civil Aviation (DGCA) - has sent a notice asking why should its license not be cancelled or suspended. While the company's lenders offered it around 60 odd crore rupees yesterday to tide over the current crisis and get people back to work, the money will only pay about two months' salary of its staff. Employees, on the other hand, are adamant that they won't go back until they get all their pending dues. Since Wednesday, they have boycotted every attempt of the management to talk to them on the issue.
The airline management, now hemmed in, has extended its partial lockout until October 12.