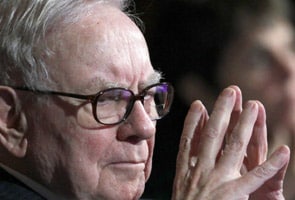 New York:
Addressing the much-talked about succession plan at Berkshire Hathaway, legendary investor Warren Buffett today said the sprawling conglomerate has identified his successor.
Without disclosing the name of his successor, the octogenarian billionaire in his annual letter to shareholders said the conglomerate's board has had a "great deal of exposure" to the chosen person.
A couple of names including India-origin Ajit Jain, who manages the multi-billion dollar Berkshire Hathaway Reinsurance Group, have been doing the rounds as possible successors to Mr Buffett.
"Your Board is equally enthusiastic about my successor as CEO, an individual to whom they have had a great deal of exposure and whose managerial and human qualities they admire. (We have two superb back-up candidates as well)," Mr Buffett said in his 22-page annual letter.
However, the billionaire investor reiterated that he and his long-time business partner Charlie Munger are not going anywhere immediately.
"... we continue to be in excellent health, and we love what we do," Mr Buffett noted.
According to Mr Buffett, the succession would be "seamless" and Berkshire's prospects will remain bright.
Mr Buffett's comments about succession comes probably for the first time after David Sokol, who was tipped to take over the reins of Berkshire Hathaway, quit last year amid controversy over an investment decision.
"More than 98 per cent of my net worth is in Berkshire stock, all of which will go to various philanthropies.
"Being so heavily concentrated in one stock defies conventional wisdom. But I'm fine with this arrangement, knowing both the quality and diversity of the businesses we own and the calibre of the people who manage them," the letter said.
Further, Buffett said that with these assets, his successor "will enjoy a running start".
Last year, Berkshire Hathaway had roped in Todd Combs and Ted Weschler at senior executive positions.
"Both of these men have outstanding investment skills and a deep commitment to Berkshire.
"Each will be handling a few billion dollars in 2012, but they have the brains, judgement and character to manage our entire portfolio when Charlie and I are no longer running Berkshire," Mr Buffett wrote in the letter.
Warren Buffett heaps praises on Ajit Jain

Showering praise Ajit Jain, famed investor Warren Buffett said the Indian-origin executive has added "a great many billions of dollars to the value of Berkshire Hathaway".
Mr Jain, who has been associated with Buffett's conglomerate Berkshire Hathaway since 1985, has long been considered as a potential candidate to succeed the billionaire investor.
"From a standing start in 1985, Ajit has created an insurance business with float of USD 34 billion and significant underwriting profits, a feat that no CEO of any other insurer has come close to matching," Mr Buffett wrote in his annual letter to shareholders.
By these accomplishments, he has added a great many billions of dollars to the value of Berkshire Hathaway, Mr Buffett noted before adding, "Charlie (Munger) would gladly trade me for a second Ajit. Alas, there is none".
According to the letter, Ajit Jain never exposes Berkshire Hathaway to risks that are inappropriate in relation to its resources.
"Ajit insures risks that no one else has the desire or the capital to take on. His operation combines capacity, speed, decisiveness and most importantly, brains in a manner that is unique in the insurance business," Mr Buffett said.
Citing an example, the legendary investor said that if the insurance industry should experience a USD 250 billion loss from some mega catastrophe, Berkshire Hathaway as a whole would likely record a moderate profit for the year because of its many streams of earnings.
"Concurrently, all other major insurers and reinsurers would be far in the red and some would face insolvency," he noted.
Berkshire Hathaway is a holding company of subsidiaries that are engaged in various fields including freight rail transportation, finance, manufacturing, services and retailing.