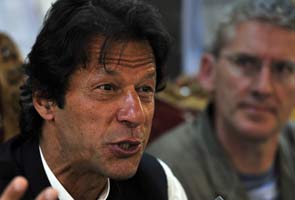 Lahore:
Cricketer-turned-politician Imran Khan led a massive gathering of his supporters in Lahore on Sunday as he sought to galvanise his fledgling Pakistan Tehrik-e-Insaf party by raking up the issue of the rights of Kashmiris and seeking withdrawal of Indian troops from Jammu and Kashmir.
The rally near the Minar-e-Pakistan monument, which was attended by over 100,000 people, was aimed at projecting Mr Khan as a serious contender in Pakistan's political arena ahead of the 2013 general election.
Over the past few months, Khan's party has sought to enlarge its support base in Punjab, the country's most populous province.
Mr Khan's nearly 50-minute speech largely focussed on the problems and challenges facing Pakistan, including corruption and crippling power outages, but he used the occasion to take up several populist issues, including the Kashmir dispute.
"I want to tell Hindustan that the 700,000 troops you have kept among the Kashmiris no army has been able to solve any country's problems at any time," he said to cheers from his supporters.
"Did the Americans succeed in Afghanistan? Is the Indian Army more powerful than the US Army? When the Americans couldn't succeed, how can you succeed with 700,000 troops that are involved in excesses?" he alleged.
Mr Khan, whose party did not participate in the last general election and fared poorly in previous polls, called on India to give "Kashmiris their rights and call back the troops".
He said his party would "stand with the Kashmiri brothers and speak for their rights at all forums".
He said the rally marked the culmination of a movement begun 15 years ago by the Pakistan Tehrik to tackle the country's problems, including corruption, inflation, rising prices, lack of education, unemployment and an energy crisis.